10 Parks To See Amazing Rainbows
"Someday we'll find it. The Rainbow Connection. The lovers, the dreamers and me." – Kermit the Frog
Kermit said it best, rainbows are a great way to feel connected to each other. Let your imagination wander as you discover these 10 stunning parks that provide the perfect setting for rainbow connections to happen.
Joshua Tree's immense open space, amazing rocks, and its signature tree are a few of the reasons why desert lovers hold a deep affection for the park. Located in the Mojave Desert, Joshua Tree offers a unique landscape of sand dunes, valleys, and rugged mountains, making the perfect backdrop for a rainbow photo shoot.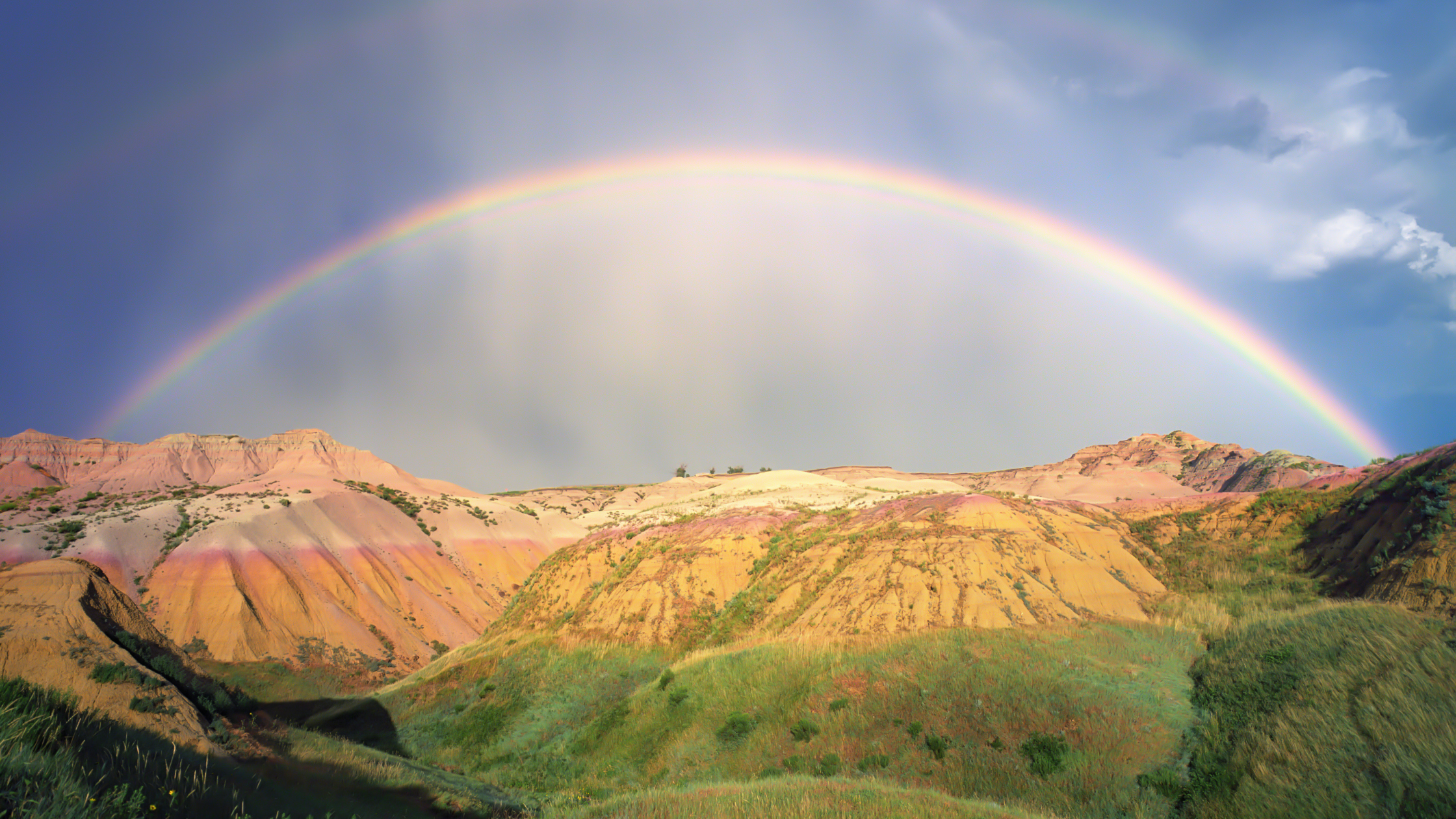 Visitors from around the world come to Badlands, not just for rainbows, but to see the rugged beauty on the ground. This landscape of buttes, pinnacles and spires contains one of the world's richest fossil beds. Ancient mammals such as the saber-toothed cat once called the 244,000 acres of the Badlands home.
An impressive array of landscapes mark this mountain range surrounded by weather-beaten desert. Scenic overlooks allow visitors to view valleys, rivers, and temple-like canyons. The 30-mile Roswell scenic drive provides great opportunities for rainbow-gazing in this majestic park.
Unique combinations of geologic colors and rock formations decorate a canyon that is 277 river miles long, up to 18 miles wide, and a mile deep. Grand Canyon overwhelms our senses through its immense size and is actually the largest canyon on earth. Rainbows following showers are fairly common occurrences in the Grand Canyon region, and when this happens, the view becomes awe-inspiring.
The Mojave National Preserve is a 1.6-million-acre park that boasts impressive mountains, canyons, volcanoes, and sand dunes. This picturesque stretch of land allows visitors to see for miles, making spotting rainbows both easy and a treat for the eyes.
This park covers 230 square miles with semi-desert shrub-steppe, petrified trees, steep hills, and colorful badlands. The area's scenic Painted Desert, known for its red rock and lavender, provides stark contrast for rainbows that fall upon its landscape.
Home of the largest trees on earth, Sequoia and Kings Canyon National Park offers some of the most impressive and humbling scenery. This landmass contains canyons, lakes, waterfalls, and scattered sequoia groves. These parks are recreational gems that will challenge your sense of wonder.
Yellowstone National Park is best known as home to a large concentration of wildlife, including buffalo, moose, elk, and bears. It is the oldest and one of the largest national parks in the United States and gifts unique experiences such as breathtaking views and geysers shooting water 100 feet into the air, the perfect rainbow backdrop.
The glistening white dunes of White Sands National Park are one of the most iconic and unique natural features that the continental U.S. has to offer. Every year, more than 600,000 visitors stop to admire the shifting and sparkling white dunes and take part in a broad range of outdoor activities including hiking, biking, and even sledding.
Home to the highest peak in North America, this famous Alaskan wilderness is as picturesque as they come. The park is home to a unique landscape that includes many glacial valleys, boreal forest, and arctic tundra. Covering six million acres of pure wilderness, it offers the best opportunity to view not only amazing wildlife but also once-in-a-lifetime rainbows.
Photos: Canva & NPS