ARIZONA: A Junior Ranger's Journey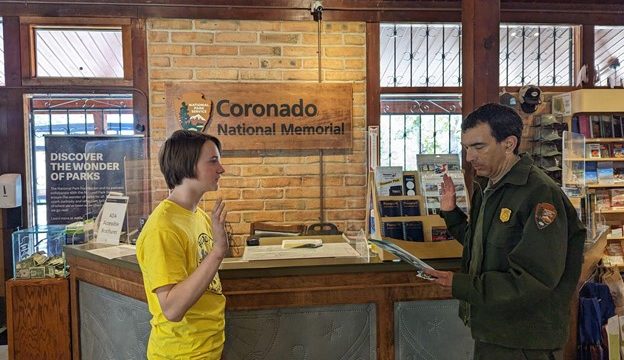 I have been to Arizona before on a trip with my mom and brother in 2015 where we visited The Grand Canyon National Park. I was young and don't remember much about that trip other than my mom was worried about me jumping into the canyon. In 2021, I visited Arizona again with my parents this time visiting Lake Mead National Recreation Area. I remember the water being very low. I hear it is even worse today. We also visited Hoover Dam. On our mission to visit all the national parks by the time I am 18, we decided that we would visit all the parks in Arizona on my spring break this year.
We started our journey at Casa Grande Ruins National Monument where we learned about the Ancient Sonoran Desert Farming Community. Our next stop was Organ Pipe Cactus National Monument. We were really lucky that we arrived when we did because the spring flowers were blooming and the scenic loop was closing the next day. The National Park Service protects this area because it is the only place in the United States where the Organ Pipe Cacti grow naturally.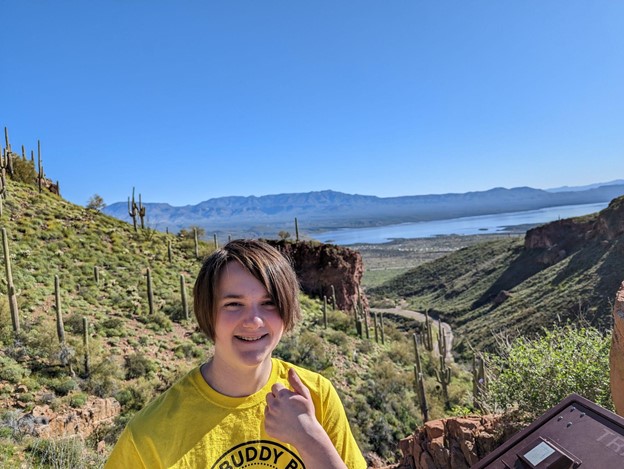 The next day, we visited Saguaro National Park. We enjoyed hiking a few trails along the scenic drive. I found the shapes of the Saguaros fascinating and also that it takes over 60 years to grow one arm. There are two sections in this park so if you are going make sure to visit both.
The following day, we visited Tumacacori National Historical Park where I learned about the Oadam people and the Spanish who built the church to bring Christianity to the native people in America. Afterward, we visited Coronado National Memorial. Today, Coronado is a place to visit for hiking, bird watching, and caving but in 1540, Commander and Captain General Francisco Vázquez de Coronado led Spanish soldiers and Aztec people into the Tiguex War against the Tiguex people.
After a long drive, we made our way to Chiricahua National Monument. I was hoping to see a Coati Mundi but instead, I saw turkey, deer, and a friendly Mexican Jay. After our time at Chiricahua, we hiked to Fort Bowie National Historic Site. Fort Bowie spent over 25 years fighting against the Apache until Geronimo finally surrendered at Fort Bowie.
After a much-needed rest, my mom and I went to Tonto National Monument. The hike to the dwellings while short was definitely steep. The view was amazing. I understand why the native people used this dwelling, it was cool inside, had a nearby water source and food, plus you could see far distances.
The sixth day of our adventure took us to Petrified Forest National Park. Unfortunately, the wind was near 90 mph so it was hard to hike but we made the most of it and drove to the park and hopped out for some photos from time to time. It was an adventure! Then we made our way to Hubbell Trading Post National Historic Site where the weather challenged us even more. It was cold, windy, and began to snow. Due to this, the park was not giving tours. I enjoyed watching a weaver, walking around, and practicing my turkey call. I must be pretty good because the turkey did come out of his pen. Our last stop of the day was at Canyon De Chelly National Monument. Again, the weather was cold and extremely windy so I spent most of my visit enjoying the overlooks, viewing cliff dwellings, landscape, and nature. I would like to go back when the weather is better to see even more.
Up bright and early the next day for a rare 4-park day, we started by visiting Navajo National Monument. We hiked in the snow on the overlook trail to view the cliff dwelling. I often wonder, how did everyone get into these cliff dwellings when they are so high up? Our next stop was Wupatki National Monument. I enjoyed walking through this Puebloan site. There is a cool blow hole where air flows in and out of the ground. They even had a ball field in the 1100s. Fascinating! Our third top was the nearby Sunset Crater Volcano National Monument. The volcano erupted over 1000 years ago. It affected the nearby Hopi communities. They relocated to Wupatki and the last park we visited that day, Walnut Canyon National Monument. At the monument, we hiked to the cliff dwellings.
On our last day in Arizona, we visited Montezuma Castle, another cliff dwelling. After visiting all these cliff dwellings, I think as a kid they would be a lot of fun to live in. Our last stop unfortunately was closed due to a fire in the park, so I only got to look at Tuzigoot National Monument from a distance. I did get to play at the river near the entrance. I wonder if the natives that lived here played here too.
A few weeks later, my family took a trip to Las Vegas. We took that opportunity to visit Pipe Spring National Monument. This community was built by the Mormons in Native lands. The Mormons used this place to hide their many wives because they practiced polygamy which was illegal in the US. That wrapped up with visiting all of the Arizona National Parks and getting all the badges!
I am always excited to take a Junior Ranger Adventure. These trips are not just about having fun, they are a part of my education as a homeschooler. I am looking forward to my next trip in September to New Mexico to visit all the parks there. Until then, go out and have an adventure in our National Parks.