Bowie State University Students Enjoy a Hike on Sugarloaf Mountain, MD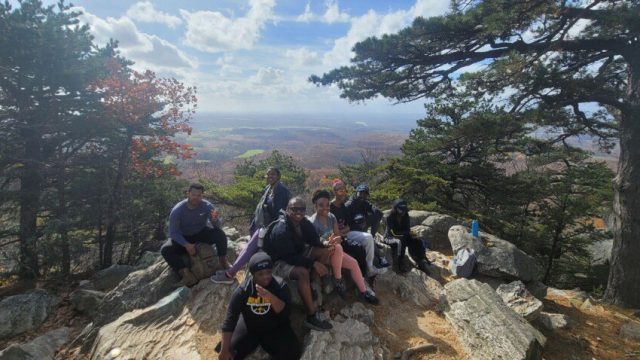 Our first trip to Sugarloaf Mountain, with other Bowie State University students, was a great way to spend a Saturday! After waking up early and gathering all the students on campus, we did a round of introductions, spoke about the National Park Trust and the College Ambassador Program, and enjoyed breakfast. Once our van arrived, we all hopped in and got ready for the hour-long drive to Sugarloaf Mountain in Maryland.
No one on the trip had ever been to Sugarloaf before, so we were unsure what to expect. While we were initially worried about our 20-person van making it up the winding dirt roads of the mountain, everything went surprisingly smoothly. The forests of Sugarloaf were at their peak fall colors, and the morning sun shining through the trees made for great photographs. Everyone on the trip was excited to get away from campus and be out in nature. The climb to the top, although exhausting, was incredibly rewarding. The views from the top of Sugarloaf took our breath away, and it was a fantastic spot to take a lunch break.
After we ate, we hiked back down the mountain and noticed that Sugarloaf is an excellent spot for different outdoor activities. Along our way, we saw people rock climbing, mountain biking, trail running, and road cycling. Seeing so many outdoor activities supported by one natural area was inspiring. We enjoyed our first college ambassador outing and are excited to build even more meaningful outdoor experiences throughout the year for our classmates!