Carroll Students Embark on Climbing and Stewardship in Helena's South Hills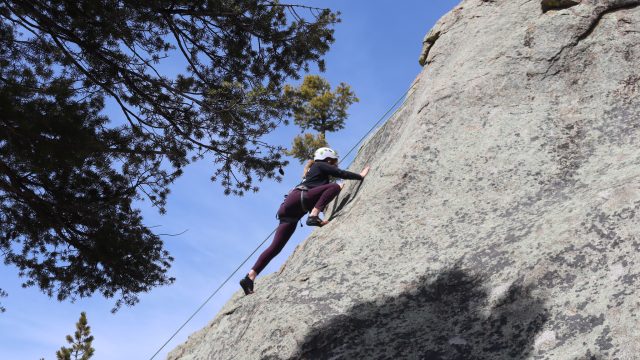 On Sunday, April 16th, 20 Carroll college students embarked on a stewardship trip sponsored by the National Park Trust to Haystack Rock, a local climbing crag about thirty minutes south of Helena, MT. Our participants had a variety of climbing experiences: some had never climbed outside before, and some were members of the Carroll College climbing club looking to climb some fun new routes. After arriving at the crag, we set up five fun top-rope routes for participants to climb and enjoy, and a few participants even chose to lead some routes up the rock.
Luckily the parking lot for Haystack Rock is very close to the climbing crag, so we were able to set up our grill and get some burgers and bratwurst cooking for people to come and eat while they weren't up climbing. Even though it had snowed earlier in the week, the weather was great for a day out in the sun, enjoying the Elkhorn Mountains. Due to the beautiful weather, we were able to run into quite a few members of the local Helena climbing community, which gave us an excellent opportunity to discuss climbing etiquette and make sure that all of our participants were aware of how to make a climbing crag a fun place for all users. We also used this opportunity to discuss Leave No Trace principles to help ensure that our wild places will stay untouched.  
Overall we had a great day of climbing on one of the first warm weekends of the year. We got our participants exhilarated for the new season of outdoor activities and excited to be good stewards of the great outdoor places of Montana.