Bringing Parks to the Classroom in OK!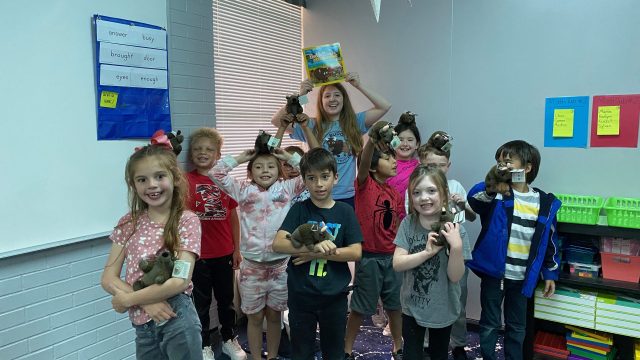 This May, students in the National Park Trust's Student Ambassador Program were given the opportunity to host a National Park-themed event that would benefit their community. I immediately thought about doing something for my public school district in Oklahoma. I talked it over with my mom, who works for the district, and she helped me come up with the idea to do something for the Shawnee Public Schools after-school program.
I got in contact with the teacher in charge of the program and started making plans. I knew right off the bat I wanted to give every kid involved a Buddy Bison plush, but the real question I struggled with was, what should the program center around? My mom sent me a few ideas from Pinterest and a geyser experiment caught my eye. Yellowstone National Park recently turned 150 years old, and I visited Yellowstone in 2021, so it was perfect!
The teacher in charge of the program, Mrs. Parker, helped me set up a time to give an interactive presentation to 15 first graders after school and I began planning. I decided to do the geyser experiment, read Buddy Bison's Yellowstone Adventure by Ilona Holland to them, and found a fun worksheet for them to color after I left. I then created a slideshow that explained who I was, my role as an Ambassador, who Buddy Bison is, and what Yellowstone National Park is.
The word I focused on teaching them was "hydrothermal features" and I knew I wanted to explain how the geysers and springs in Yellowstone were formed. Of course, since they were in first grade I couldn't go into too much detail so I mainly covered some basic, cool "fun facts".
When I got there the kids were super excited. They asked a lot of questions. Questions like, "Why is there a volcano underground?", "Why is it called Yellowstone?", "Are there yellow stones?", "Can you swim in the spring?". I was so excited and surprised by the good questions they asked. I got to talk about my experience at the park and showed them pictures. They liked the book a lot and were excited when I gave the book to their teacher so they could read it at any time. After that, we did the experiment, and I put on the goggles I had borrowed from my school's science department even though we were only dealing with steam. They had fun being scientists!
And while they were really having fun, when I pulled out a box of their very own Buddy Bisons, they got absolutely wild. One little boy made me laugh by naming his Buddy "Hot Dog" and another little girl named her's Clara which made my day. They played with the Bison and colored the geyser worksheet for the rest of the time. Later, their teacher let me know they loved every minute of it!

I am super grateful to have had this opportunity to reach out to my community like this and help spark kids' curiosity about the outdoors. When I was planning, I tried putting myself back into first grade and thought, what would my first-grade class have liked? Getting kids excited about science and the beautiful outdoors was so much fun! I hope I get another opportunity like this again because I loved every second of it. Thank you so much to the National Park Trust! PARK ON!