DC Area Military Families Get into the Holiday Spirit by Visiting President's Park and the National Christmas Tree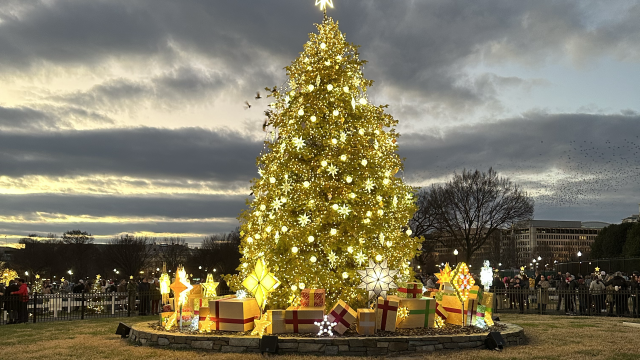 In 1923, Lucretia Walker Hardy, Director of the District of Columbia Community Center Department, sought permission to set up a community Christmas tree on the South Lawn of the White House. President Calvin Coolidge and First Lady Grace Coolidge approved, and within a few short weeks, a site was secured and arrangements for an evergreen tree were made. A forty-eight-foot balsam fir cut from the Green Mountains of Vermont, President Coolidge's native state, was given to him as a gift from Middlebury College. The tree was loaded onto a special car and driven to the capital city, where it was erected on the Ellipse and strung with 3,000 white, red, and green electric lights.
100 years later, the National Christmas Tree, located in what is now known as Presidents Park, continues to bring citizens together to celebrate the joy of the holidays. On December 17th, 2022, the National Park Trust, Joint Base Myer-Henderson Hall (JBM-HH), and Our Military Kids (OMK) worked together to offer military families a special night of memories and yule tidings. Equipt with cups of hot chocolate, Santa hats, and Buddy Bison stuffed animals, over one-hundred service members and their families arrived in twilight at President's Park. Two Park Rangers met the group and told the story of the park and the history of the National Christmas Tree and its various iterations over the years. Once under the magical lights of the 48-foot fir tree, families and children enjoyed the festivities, holiday music, and general merriment. 
In addition to the main tree, the park plays host to the "Pathway of Peace" with one-of-a-kind trees decorated with ornaments from every U.S. state, territory, and Washington, D.C. This made for a fun impromptu scavenger hunt for families as they tried to find state trees that had relevance to their lives.
As the night continued, each group posed and flashed their best smiles in front of the tree for holiday cards to remember the night. National Park Trust is grateful to our partners at Joint Base Myer Henderson Hall and Our Military Kids for helping to put together such a lovely event and to all the families that spent part of their holiday season with us!