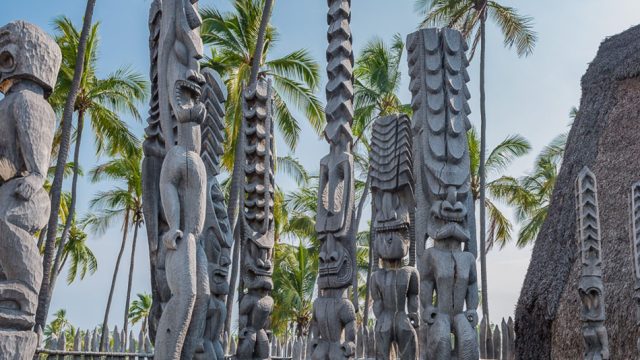 Aloha my name is Kingston, and today I would like to tell you about a place called Two Step Beach. It is in Captain Cook, Hawaii, and is one of my favorite places to go.
Did you know that Two Step Beach is right next to Pu'uhonua O Honaunau National Historical Park? Before or after snorkeling make sure to check out the statues of defeated warriors of the past inside the National Historical Park.
Two Step Beach is a cool place where you can go snorkeling and spot a turtle or an electric eel! You might also see fish like Bigeyes, Hawaiian Boxfish, and Spotted Butterflyfish. The water is a really cool blue that is a cross between aqua-green and ice blue. It's so clear that you can see all the way down to the depth of the ocean floor! It's amazing. Once my brother Ace went snorkeling there and he saw an electric eel!
If you're new to Two Step Beach, then you should go to the beginner area for swimming because it's only 6 to 10 feet deep there. If you are on the advanced side and feel adventurous, you might be able to see Hawaiian spinner dolphins in the deeper part of the beach. But sadly, you cannot swim with the dolphins anymore in Hawaii.
I recommend you go early in the morning to get a cooling swim before the sun gets hot. If you want to get a parking spot it's just five dollars. It is better to go to Two Step Beach if you are an experienced swimmer. Originally this was the fishing village. And when you're there please do not feed the animals, they can feed themselves. For a ton of information on the history of the attractions, check out the National Park Service website. There are tours, a wonderful video, and tons of reading material and maps that will help guide you along the way.
In all, Two Step Beach is a wonderful spot to see colorful fish and beautiful coral reefs and learn about Hawaiian history!