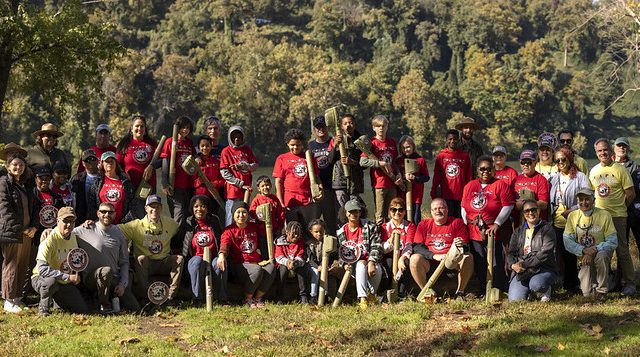 Helping Military Survivor Families Nationwide
"Catching something is merely a byproduct of our fishing. It is the act of fishing that wipes away all grief, lightens all worry, dissolves all fear and anxiety."

— Gladys Taber, author
Over the last two years, National Park Trust and TAPS (Tragedy Assistance Program for Survivors) have formed a meaningful partnership that creates healing outdoor experiences for families who have lost a loved one due to military service.
In 2022, from Washington DC to Washington State, the two national non-profits hosted five fishing events for nearly 140 participants thanks to generous support from the National Park Service. For the over 50 military and veteran families, fishing together at national park sites provided a unique opportunity to be immersed in nature and connect with others who share a similar story.
In October, two of these fishing events were hosted at the Chesapeake & Ohio Canal and the Tidal Basin at the National Mall in Washington D.C. where TAPS family members learned about the history of the parks from NPS park rangers and how to fly fish in the Potomac River. The rangers also provided fascinating fun facts about Presidents George Washington, John Quincy Adams, and Theodore Roosevelt, who had spent time on the banks of the Potomac River looking for serenity, sanctuary and recreation.
Thanks to Trout Unlimited volunteers, TAPS families were introduced to different fly fishing techniques and the gear required. As they became more comfortable with the sport, each group discovered peaceful spots along the river to practice what they learned. The day quietly transformed into a time of healing and bonding for the families.
To cap off these memorable experiences and help support future fishing opportunities, each family received an America the Beautiful Annual Military Pass, which gives them free entry into more than 2,000 federal lands and waters – and every participant went home with their own fly fishing rod, reel, and gear!
It turns out that fishing in the waters around our Nation's capital was therapeutic for both presidents and our military families!