Helping JMU Students Connect with Close-to-Campus Outdoor Opportunities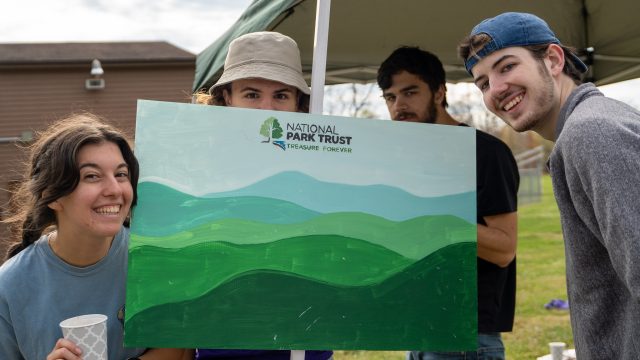 This year's local park outing event occurred in Purcell Park, VA, approximately a 5-minute drive and 15-minute walk from James Madison University's campus. This park contains biking paths, walking trails, playgrounds, food shelters, grills, baseball and kickball fields, and a fishing pond. We set up shop right next to the playground and played many games of cornhole, kan jam, and frisbee. After the games were done, we had a food tent with hot dogs, cookies, and chips that awaited the hungry participants. Students got to experience introductory guided hikes throughout the park. Afterward, the group learned and practiced how to set up tents, as well as other general camping training that they can use for future events the University Recreation Department will be running throughout the year.
This was a drop-in and out event; around 60 participants attended for varying periods, but they made sure to stay for the gorgeous National Park Trust Hydro Flask raffle. We know this was such a successful event when participants stated that they had never been to the park before and probably would not have made it out before graduation if it weren't for our event. The local park event has been the most gratifying for us over the past two years because it provides a gateway for students that even if they don't have a mode of transportation besides walking, they can still make it out to the park in their free time. It's always a great experience to help facilitate students discovering new local park sites in and around campus, and we both agree that it's one of the best parts of being a Park Trust College Ambassador!