Howard University Students Reach New Heights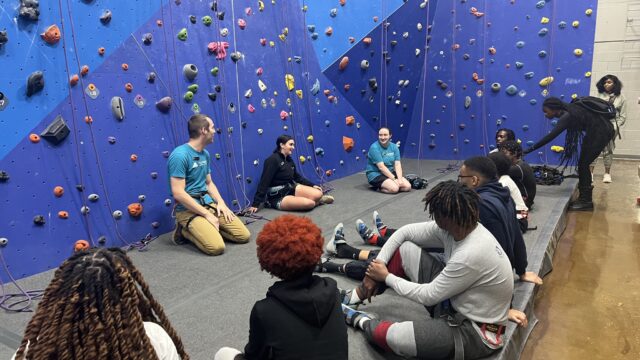 On October 9th, we took 35 Howard students on a rock climbing outing! Movement Crystal City is a state-of-the-art facility that offers more than an acre of climbing, yoga, and fitness activities to the active and creative community in the area. The gym has more than 350 routes spread out on 35,000 square feet of climbing walls, with different levels of difficulty and styles. Whether you are a beginner or an expert, you can find something that suits your abilities and goals.

After arriving, we started our class with a warm-up session led by a few of the friendly and professional instructors at Movement. They taught us the basics of climbing safety, the equipment we would be using, and new techniques to try. We learned how to tie knots, use harnesses, belay devices, and carabiners. We also learned how to communicate with our partners and trust them as we climbed and belayed each other.

After the training session students were free to climb throughout the gym as they pleased. It was clear that many of the students were taking a broad step out of their comfort zone, and braving new heights, literally and figuratively. As the day went on, more students joined to participate in the belay class, post class climbing, and a trivia giveaway. The comradery at this event was evident, and was only strengthened by the presence of Ron Griswell, HBCUs Outside Founder, and his lovely wife, Linea.

Overall, the experience was amazing! Many people found a new love for rock climbing that day, and were excited to hear when we would be putting on the next outing. The rock climbing and belay class at Movement Gym Crystal City was a memorable experience that allowed us to try something new, learn valuable skills, and have fun with friends. It was not only a great workout for our bodies, but also for our minds. It taught us how to overcome challenges, work as a team, and trust ourselves and others. What a great day to be a Bison outside!