Joint Base Myer Henderson Hall Families Discover the Ghost Fleet of Mallows Bay National Marine Sanctuary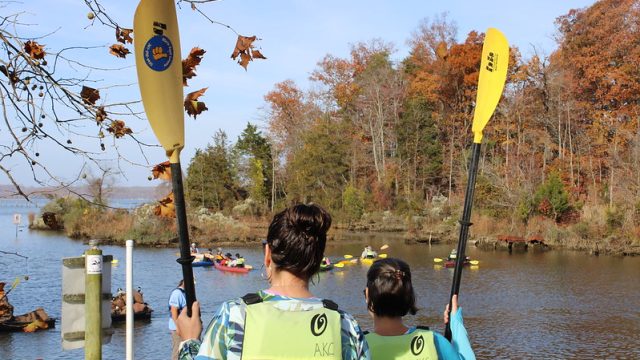 On a crisp autumn Saturday morning, a group of 40 service members and their families gathered together at Mallows Bay National Marine Sanctuary, located on the serene Potomac River just south of Washington, D.C. They came together for a day of kayaking and hiking, all made possible through a collaboration between the National Park Trust, Joint Base Myer-Henderson Hall's Directorate of Family & Morale, Welfare and Recreation, and NOAA's National Marine Sanctuaries System.
The day began bright and early for the families as they arrived at the Joint Base Meyer Henderson Hall bowling center. They were greeted with breakfast and then boarded a chartered bus for the hour-long drive south to Mallows Bay National Marine Sanctuary. Once they arrived, NOAA and Atlantic Kayak staff provided an informative introduction to the marine sanctuary, sharing captivating tales of the ghost fleet of World War One-era ships that were sunk along the coast of the Potomac River after the war ended. They explained how ships have degraded into small floating island-like ecosystems over the past century. Once the kayaking tour of the sanctuary began, it became clear that exploring the ruins of these vessels would turn into a true highlight of the excursion. 
Participants enjoyed a two-hour tour of the ghost fleet, learning about which animals and plants had come to rely on the now-degraded ships for habitats and shelter. The group even saw a mother beaver who had built a den among the flotilla of degrading wood! Afterward, participants were provided lunch and then participated in programming offered by NOAA staff, including an interpretive nature walk and virtual reality explorations of the ghost fleet through VR headsets.
The event on November 5th at Mallows Bay was one of three outings in 2022 at park sites across the greater Washington, D.C., Maryland, and Virginia area designed to mobilize service members and families living and working at Joint Base Myer Henderson Hall to experience their local environments.