Joint Base Myer-Henderson Hall Students Explore White House History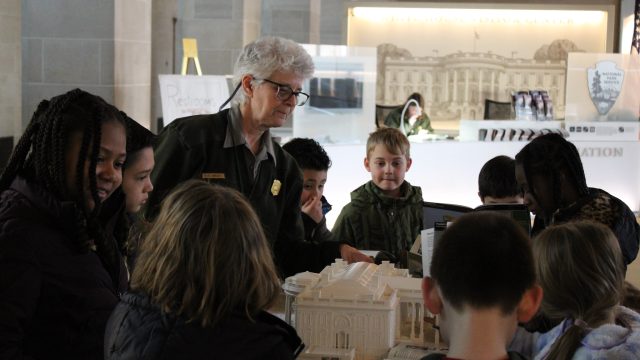 On January 30th, over fifty students from Joint Base Myer-Henderson Hall took a memorable trip to the White House Visitors Center to learn and interact with the historic presidential home thanks to the National Park Trust's partnership with the Child and Youth Services Division on-base. 
After a short bus ride from the base, the students were divided into grades for various activities. The first through third graders participated in an eagle activity, where they learned about our nation's symbolic bird. At the same time, the fourth to eighth graders participated in a bingo activity to test their knowledge of our nation's presidents and information about the White House itself. The fourth graders were also given a special gift – the Every Kid Outdoors Pass, giving themselves and their families access to parks, public lands, and waters across the country for the year! 
While looking around the exhibits, the students got a window into the president's iconic home, with exhibits highlighting furniture, food, and national symbols of importance throughout the 200-year history of the White House. Nearly 100 historical artifacts, photos, and an interactive touchscreen tour helped illuminate what it must be like to live there! At the end of the trip, all the students gathered for one final special event – a viewing of the 14-minute film "White House: Reflections From Within" and a swearing-in ceremony for the students to become Junior Rangers!
Afterward, it was time to give the students a good look at the building they had learned all about that morning, so the group crossed the street into Presidents Park, across the gates from the south lawn of the White House. Once there, the group viewed the building and recapped what they had learned with Rangers before heading back to the buses and returning to Joint Base Myer Henderson Hall.