Luminarias, a Southwestern Holiday Tradition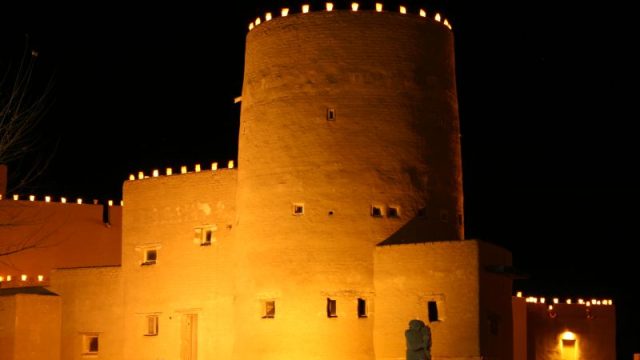 Every year, as night descends on the desert and the winter cold sets in, communities across the Southwest light up their neighborhoods with elaborate displays. 
The origin of luminarias (farolitos) is traced back to sixteenth-century Mexico. On the final night of Las Posadas, a religious festival celebrated between December 16th and 24th, townspeople would light bonfires alongside roads to help guide people to the celebratory Midnight Mass. During Spanish colonization, the Puebloans, or Pueblo Peoples from New Mexico, picked up the tradition from Spanish missionaries who learned it from the Indigenous Peoples of Mexico. In the early 19th century, the practice was brought to the Santa Fe Trail when settlers lit their entranceways with beautiful Chinese paper lanterns instead of bonfires. When the Chinese lanterns got too expensive, many improvised by making small lanterns out of paper sacks, and the tradition evolved to using modern-day brown paper bags.
Every December, Pecos National Historical Park in New Mexico holds two special holiday events: Las Posadas and Luminarias Walk. Park staff and volunteers light luminarias or farolitos along the Ancestral Sites Trail and inside the 1717 Spanish Mission Church—a tradition dating back to early Spanish colonization. In Spanish, luminaria means "illumination," and farolito means "little lantern." Today, these holiday lanterns are made by filling brown paper bags partway with sand and placing a tea candle inside. Once the candle is lit, the luminarias glow with comforting warmth and are arranged in rows to create large and elaborate displays. The Luminarias (farolito) Walk is a laid-back evening that offers park visitors the opportunity to take in the magic and ambiance of more than 3500 luminarias that line the 1-mile trail. 
The use of luminarias has grown and spread from a Southwestern tradition to a celebration enjoyed by citizens across the US. While the practice initially started as a way to shed light during the Winter Solstice, modern-day celebrations often use luminarias as a symbol of hope in our nation's darkest hours. In 2021, families lit 400 luminarias around the Reflecting Pool near the Lincoln Memorial in Washington, DC, to honor the lives of the loved ones they had lost in the COVID-19 pandemic.
Although luminarias are practically synonymous with the New Mexican holiday tradition, in every celebration, they are a symbol of warmth and light.