Military Families Have a Fin-tastic Day of Fishing at Asseteauge Island National Seashore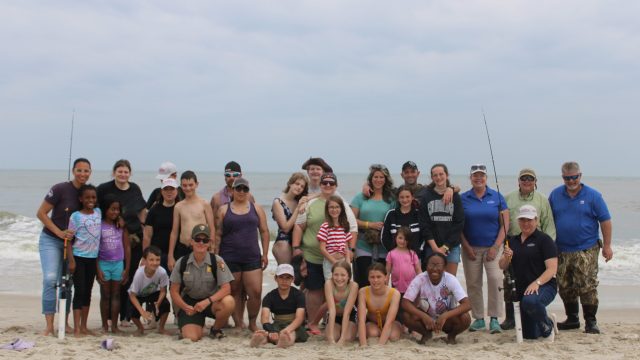 On Saturday, May 13th, 2023, as the sun broke through the clouds on a mild spring morning over the shoreline of Eastern Maryland, military kids and their families embarked on a special day of fishing and discovery at Assateague Island National Seashore. Dolphins were seen cresting the waves just off the coast, wild horses roamed along the beach, and the families made new unforgettable memories.
The National Park Trust, National Park Service (NPS), and Our Military Kids partnered to host the event at Assateague Island National Seashore near Ocean City, MD. The program was designed to teach fishing basics to Maryland, Virginia, and Delaware-based National Guard and Reserve families while connecting with their local national park sites in a deeper and more meaningful way without financial or access barriers.
Upon arriving at the park's visitor center, Assateague Island Superintendent Hugh Hawthorne presented families with a 2023-2024 Interagency Military Pass, and others with the new America the Beautiful – National Parks & Federal Recreational Lands Military Lifetime Pass. The ceremony was made even more special thanks to Superintendent Hawthrone's own military service in the Navy, and his family's history of service through his father. After an in-depth ranger program focusing on Assateague Island's beautiful wild horse population, families headed to the shoreline to cast their new fishing rods out into the waters of the Atlantic Ocean and enjoy the pristine and protected coastline.
Thanks to the Park Trust's partnership with NPS, each child and parent went home with a shoreline fishing pole and tackle box so they can keep fishing in the region and create more memories as a family.
This event at Assateague Island National Seashore is one of four events happening in partnership with Our Military Kids in 2023 at national park sites nationwide. Other event locations include Mount Rainier National Park (WA), Biscayne National Park (FL), and Cabrillo National Monument (CA).