Muhlenberg Ambassadors Clean Up Cedar Beach Park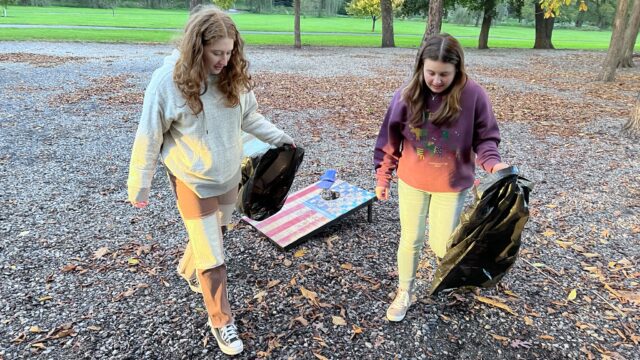 For our inaugural event, we gathered at the picturesque Rose Gardens located in Cedar Beach Park behind Muhlenberg College. Our chosen spot was a charming pavilion where we arranged a delightful array of games, delectable food, and handy cleaning supplies. The journey for the students who joined us involved a scenic walk through the Rose Garden from our campus to the welcoming pavilion. In total, we were fortunate to have 20 students join us during the two-and-a-half-hour duration of the event.

Despite the slightly chilly weather, we ensured everyone was warmly dressed, and the delicious barbeque fare from Grumpy's BBQ, a beloved local Allentown restaurant, provided a cozy and satisfying culinary experience. The students were not only thrilled by the food, but also excited to relish their dinner outdoors. Our timing was impeccable, as the preceding week had been unusually cold, making our outing on a relatively warmer day all the more enjoyable.

In addition to the festivities, we dedicated time to contribute to the well-being of the park. Armed with trash bags, we embarked on a collective effort to clean up the surroundings. Many of the students who joined us actively participated in this endeavor, showcasing their commitment to maintaining the beauty of a place we frequently visit. The most gratifying aspect of the event was witnessing the care and dedication with which people took a break from their food and games to contribute to the park's cleanliness. It was truly heartening to see everyone come together to ensure the park remains a cherished and well-preserved space for our community.

We finished the outing with students engaging in a variety of games, including cornhole, giant jenga, giant checkers, and giant cards. These activities added an extra layer of enjoyment, keeping everyone engaged and active after indulging in the scrumptious barbecue and our stewardship activity.