Muhlenberg College Ambassador Takes Students Fishing at Hidden Lake in the Delaware Water Gap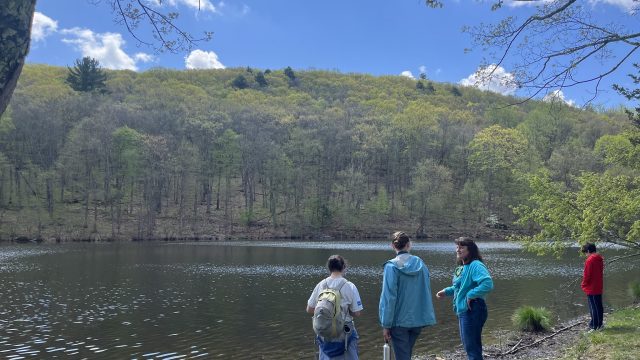 Despite the rain postponing our fishing adventure, our visit to the Delaware Water Gap was worth the wait! On April 15, 2023, park rangers let us explore HQ and the gift shop before driving over to our final destination. First, we played a casting game on the grass with fake fish so our participants could learn the basics. We learned how to tie knots and made sure our poles were set up before devouring pizza on our lunch break. Everyone was super intrigued about the College Ambassador Program and how we had access to such professional fishing gear!
Then, the eleven students, faculty, and staff of Muhlenberg split up and took short hikes to various beautiful locations of Hidden Lake. With the help of the rangers and Muhlenberg drivers, who were expert anglers, we all began to cast our reels and try out fishing (most for the first time). Two participants who were new to fishing both caught a fish! The Park Rangers showed us a guide to identifying the fish and helped us properly release it back into the water.
Most of us had many close calls– getting a bite and nearly catching a fish. Despite having only hooked a few fish, the scenery was gorgeous, and we were happy to be out in nature. On our ride back to campus, we stopped at a local Wawa and found a baby three-day-old mouse near the trash. We decided to rescue it and bring it to an animal sanctuary near campus, where it is now thriving!
Everyone felt super fulfilled at the end of our trip. We can't wait to explore other local fishing areas and refine our casting and reeling skills!