Muhlenberg College Ambassadors Take Students to Pick-Up Trash at Local Park And Complete an Eco-Friendly Art Project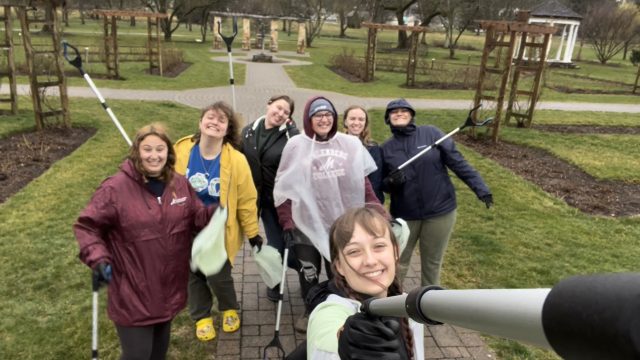 Despite the rainy weather, our visit to a local park was a success! St. Patrick's Day decorations were scattered across the grass while plastic bottles and cigarettes lined the creek. The seven participants were eager to use trash grabbers to clean the area and explore the grounds. When we arrived on site, Sophie and I handed out gloves, grabbers, and biodegradable trash bags.
We spent the first half of the day at Cedar Creek Park, allowing people to pair up and walk around the water, collecting various items. Some exciting finds were golf balls, cans, socks, a tie, and a dog toy. I even found a deer antler! We dunked it in the creek to clean off the blood, and Sophie took it back to campus in a garbage bag to clean it for decor. After two hours of cleaning, the rain picked up, and we ran to dispose of the ten garbage bags we had collected.
We drove back to campus through the rain and began our eco-friendly art project. We collected plastic water bottles in the weeks leading up to the event to make sun catchers. We had snacks while coloring plastic water bottles and cutting them into spirals. Our group had such a fun time reflecting on the importance of community service while enjoying the shelter from the rain. Everyone was eager to return to the park and do more trash cleanup, and we agreed that collecting water bottles for this art project was also a great idea.