Reel-ing in Future Fishing Enthusiasts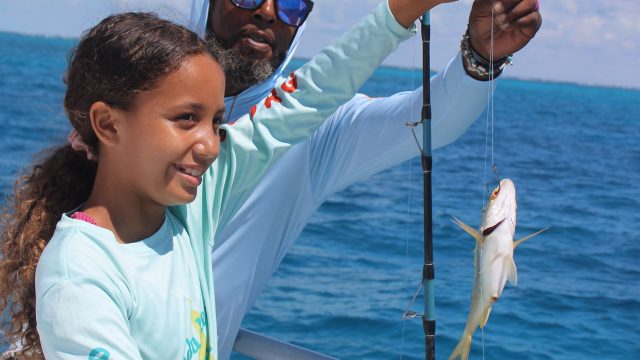 "If you give a man a fish, you feed him for a day; if you teach a man to fish, you feed him for a lifetime."
This past spring, National Park Trust did just that.
We welcomed military and Title I school families into national marine sanctuaries in Florida, Maryland, and California. The families experienced sanctuaries firsthand while learning how to fish and be good stewards of our public waters.
These transformational trips were possible because of our partnership with National Marine Sanctuary Foundation, NOAA Fisheries, and NOAA's Office of National Marine Sanctuaries in celebration of National Fishing and Boating Week.
Florida Keys National Marine Sanctuary
As students and families from NOAA's Ocean Gaudrian Schools (Title I) boarded the fishing charter boat, they found themselves in awe of the crystal clear waters of the Florida Keys National Marine Sanctuary. Dolphins swam alongside them, and sea turtles were spotted amongst the reefs. The students and parents learned from NOAA experts about the ecosystem and how they can help preserve the area. Many of them had never been on a boat before, or fished, but that didn't stop some families from catching fifteen to twenty. It was an incredible day and an excellent way for these local families to experience their local marine sanctuary for the first time!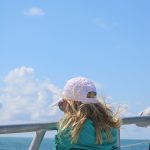 Mallows Bay-Potomac River National Marine Sanctuary
In Maryland, we took DC-based military families out to Mallows Bay-Potomac River National Marine Sanctuary for a day of fishing and kayaking around the famous "Ghost Fleet." While on a kayak tour, the families paddled around the sunken WWI ships; they experienced one of the largest shipwreck graveyards in the world, and the wildlife that now calls the remains their home. The families caught many invasive blue catfish, helping to rid the sanctuary of non-native species, and enjoyed them for dinner that night!
Channel Islands National Marine Sanctuary
We finished our series of outings along the Pacific Coast, inviting Ventura County, California-based military families to spend the day in Channel Islands National Marine Sanctuary. After boarding a sportfishing charter boat, families were immediately surrounded by sea lions and kelp. They learned how to fish in shallow waters close to one of the Channel Islands and then tested their skills in the deeper waters. Throughout the day, the group caught more than ten fish species. At the end of the day, the families were excited to take their fish home while avoiding the seagulls, who looked enviously at their bountiful catches!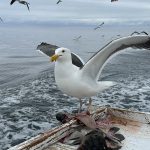 Every participant from all three trips took home their own fishing pole and tackle box so that they can continue to have fun exploring their local marine sanctuaries, and "feed themselves for a lifetime."