Our Second Annual "SUP and Clean Up"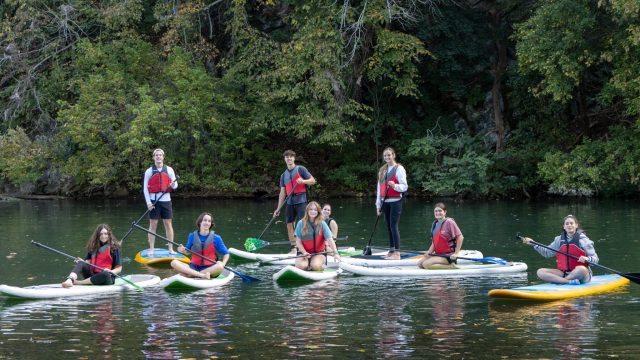 Our second annual "SUP and Clean Up" event was hugely successful. We kicked off our first semester of the college ambassador program at James Madison University this year with a stand-up paddle boarding (SUP) event at Switzer Lake, VA, on September 25th. Over 40 individuals from various years joined us for our adventure. It was great to see freshmen and sophomore students experience the George Washington National Forest and Switzer Lake for the first time. Several students were excited to come back with friends for hikes and paddles in the future! 
After a few hours of clean-up focused on the campgrounds and roads surrounding Switzer Lake, storm clouds and winds began to pick up, and we had to head back to the vans early without being able to get out onto the lake. Although the weather prevented us from paddleboarding at our original location, with a little creativity and help from our University Recreation advisor, we migrated to a new site away from the storm: a river near Eastern Mennonite University. This location provided the perfect paddleboard launching point and drive-through for freshly cooked beef and vegan hot dogs. 
As the first event of the new academic year, we were excited to get the ball up and running again. It was the perfect kickstart to a year of National Park Trust and James Madison University trips. We are excited to provide more outing experiences to our fellow students as the year continues!