Students From Bowie State University Boulder For the First Time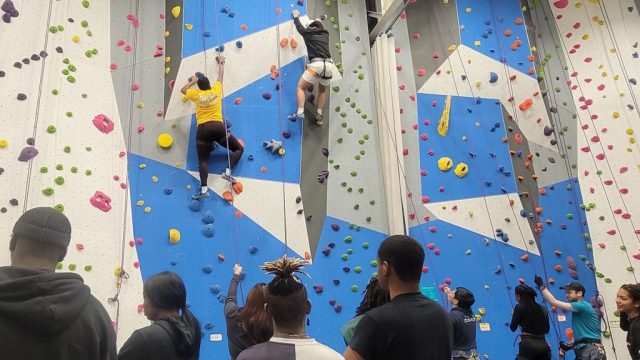 For many of us, rock climbing seemed like a distant dream. A daring venture meant for wild thrill-seekers, extra-fit people, and those with pockets deep enough for well-insured, well-equipped adventures in distant mountains.
Yet, a brief 30-minute drive from Bowie State University, an unconventional gym boasts not heavy treadmills or stationary bicycles but a zany collection of walls with all manner of oddly shaped, colorful protrusions. Movement Gym Columbia is where many of us discovered the joys of rock climbing and bouldering.
Our 25 students were paired with 5 climbing instructors. After the brief awkwardness filled with questions like 'How does this safety harness go on,' we began our training. We learned that different colors signified different difficulty levels. Within 15 minutes, all sections of the walls were filled with climbers. Although we were cautious at first, it didn't take long for us to figure out how safe it was, and very soon, we were restless for a grander challenge. The gym did not disappoint: our instructors were quick to lead us to the other walls – the ones where you look up and gasp. There was a real beauty to those heights.
With the harnesses in place, the instructors firmly back on the ground, and cords firmly gripped, we each took turns climbing. It was the kind of climb where you begin to doubt your decision about halfway up. That is until you hear the cheers from your instructor and peers, decide to trust the process and go on until you reach the top. One by one, we each overcame the intimidating heights- some easily, some with a bit more courage, and some, like me, with a decent break in between. "Let yourself hang" was the secret to minimizing muscle stress, I learned.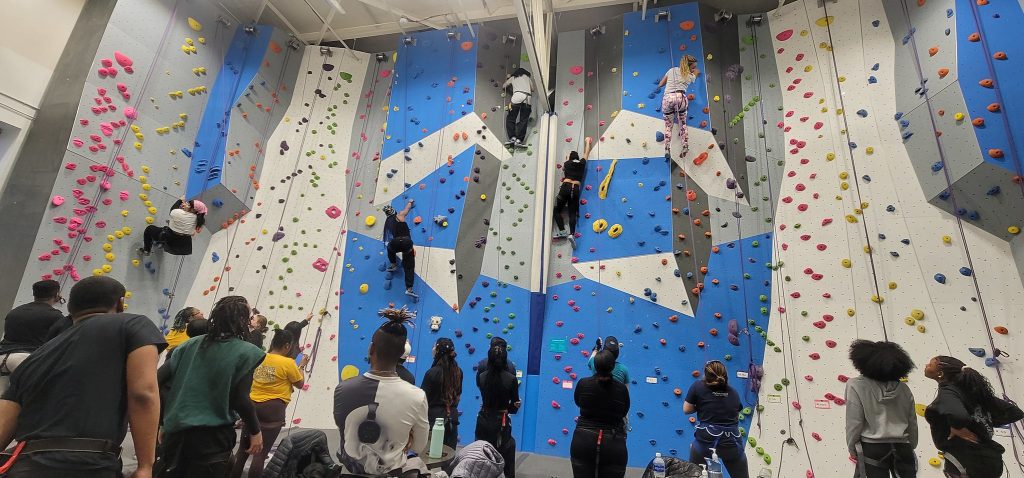 Next up on our list was bouldering. We ditched the harnesses, dusted our palms, and practiced falling. Although the bouldering walls were short, they required the most skill. By this point, our group and instructors felt like best friends. A great force of camaraderie forms even between strangers when you climb together. We found that some boulders were simple to climb, some took a bit of grappling, while others seemed simply impossible. It was a great problem-solving exercise to figure out which rock to grab next or place your foot on! It wasn't just about strength but flexibility and mental agility. Every climb was possible; it was only a matter of how.
For us, figuring out how to successfully climb every route would have to be saved for another day. After two fun-filled hours, our session was over. We headed to a nearby Chick-fil-A for some much-needed protein and refreshments. By 9:30 pm, we were back on campus and parted ways with cherished memories of our first outing as the BSU Outdoor Club. The next few days after the evening of February 25th would require some serious yoga, and Epsom salt soaks after such an intense and fun climbing experience!