TSU Students Descend into the World's Most Extensive Cave System – Mammoth Cave National Park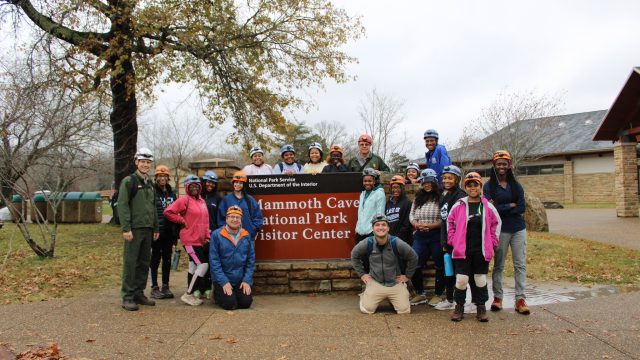 Aria McElroy, TSU College Ambassador
On November 11, 2022, I led my fellow Tennessee State University students on an incredible trip to Mammoth Cave National Park. We were fortunate enough to take a private cave tour, learn about research and career opportunities with our university and Mammoth Cave, as well as explore the rich history of the enslaved guides that led tours into the cave.
Students woke up early to hop in vans and drive out to the park, a 1.5-hour drive into Kentucky. Upon arrival, we were greeted by Rick Toomey, who is the Cave Resource Management Specialist and Research Coordinator at Mammoth Cave. After a quick safety talk, we strapped on helmets and knee pads and walked over to the cave entrance. It was from there that we began our descent into the most extensive cave system in the world. 
The cave itself was beautiful and expansive, with dramatic rock structures and historical artifacts along the walls and ceilings. We learned about some of the earliest cave tour guides, enslaved men such as Stephen Bishop and brothers Nick and Mat Bransford, who navigated the tunnels. These men were skilled at guiding tourists through the passageways in the early-mid 19th century. As we walked along the cave called "Gothic Avenue," one of the large passageways in Mammoth Cave, we could see their signatures written on the ceiling in candle smoke, forever a reminder of the history of the cave and those who traveled through it.
After eating an underground lunch inside the cave, we were offered an exclusive tour of a research passageway, usually closed off to the public. This passageway had been previously studied by TSU students from the College of Agriculture. Professor Dr. Thomas Byl showed some of the monitoring devices students from previous research projects used that were installed in an area to study the rock formations and the stagnant pools of water. 
Perhaps the most exhilarating part of the experience was when we completed a 300-meter cave crawl into a narrow passageway that left everybody's hearts racing.
After the cave tour, we hiked over to the Old Guides' Cemetery, where Stephen Bishop was buried after spending over 20 years guiding people through Mammoth Cave. It was incredible to view aspects of his life through the walls and nature of Mammoth Cave, and eye-opening to learn that the most famous guide and explorer in Mammoth Cave's history was an enslaved man. 
Students who came on the trip all expressed wonder and amazement about the human and natural history of Mammoth Cave. The deeper we traveled into the cave, the more everyone's curiosity and excitement seemed to grow. It was rewarding to see my peers make intimate connections with nature and each other as we explored the vast network of tunnels and history.