WVU College Ambassadors Host A Successful Fishing Outing at Tygart Lake State Park.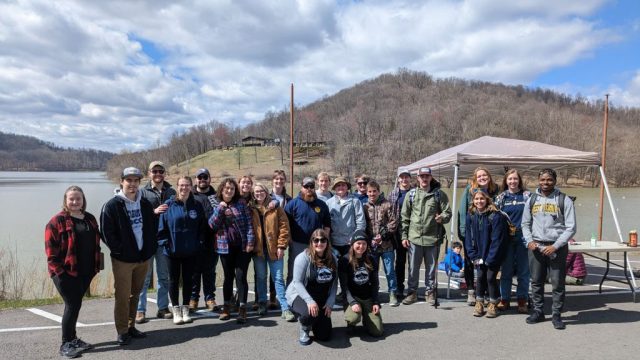 One of the best things about going to West Virginia University (WVU) is the immediate access to the outdoors, right outside the city limits. On April 2nd, College Ambassadors Laurel Williams and Lily Oles held a fishing outing at Tygart Lake State Park, just a short forty-five-minute drive from campus. Twenty-three students from WVU took time out of their day to enjoy the spring weather and fish at the state park.
The event ran from noon to 4 pm, consisting of fishing, a talk from Tygart Lake naturalist Jacob Jackson, and fun times! The students were very enthusiastic about the event and came prepared with their own fishing gear and knowledge. We had a unique mix of students, some first-time fishers and some seasoned in the sport. While the Ambassadors were monitoring the event and assisting where needed, we had several students step up to teach their peers some tricks and tips on fishing.
Many students were glad to hear that the fishing gear would be donated to the university's Outdoor Recreation Center, where WVU students can rent equipment. As Ambassadors, we found conversing and connecting with the participants easy. They came prepared with questions about the National Park Trust and our mission. Many also filled out our interest form for the Earth Day Outing to Friendship Hill National Historic Site on April 22nd. It was a great day, and we are so glad to be able to share these opportunities with our fellow students, thanks to the Park Trust.