WVU College Ambassadors Partner With WVU Falling Run Greenspace to Plant Trees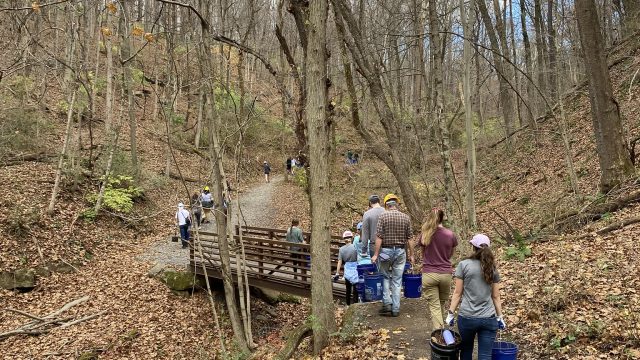 Lillian Oles and Lauren Williams
On November 6th we held our tree planting stewardship event at West Virginia University Falling Run Greenspace, located just a ten-minute walk from the WVU Mountainlair, the main hub for all students. We partnered with Falling Run to plant eastern white pine (Pinus strobus) and Canaan/Balsam fir (Abies balsamea) in an area that had been clear-cut due to houses being built near the greenspace. This greenspace is integral to students and Morgantown residents alike, as it provides easy access to the peace and serenity of nature while being located in town.
The event had a very successful turnout, with twenty-three WVU students volunteering their Sunday afternoon to plant the trees. The event lasted for three hours, consisting of an educational talk about what stewardship means to us all, and how it impacts the Falling Run Greenspace. All the students had a can-do attitude when it came to planting, and the buzz of excited talk could be heard throughout the day. We had people partner up and claim their trees to plant, and we heard some really catchy lines from the group! One of our favorites was the christening of Pinelope the eastern white pine.
We had students from all parts of the college come to this event, spanning from business majors to environmental majors and everything in between! As ambassadors, we found it was easy to converse with all of the students as they all had questions as to what we were doing and why we hosted the event. Many of the students developed a strong interest in the National Park Trust and what we do as college ambassadors, and we had several requests to let them know when our next events would be. All in all, it was a wonderful day, and all of the students left with smiles and a sense of pride, knowing that they contributed to making the world a better place.