35 Acres Protected in Zion National Park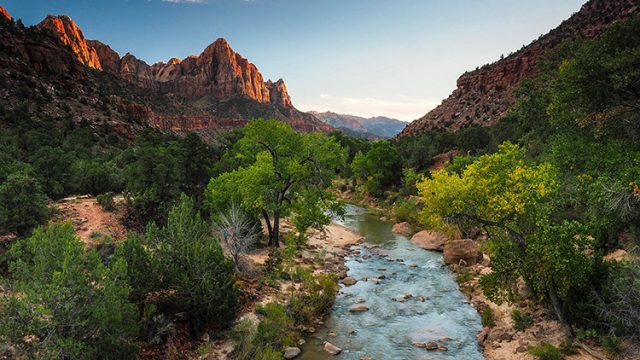 National Park Trust is pleased to announce that 35 acres of once-private land has been permanently protected from development and returned to Zion National Park. The Park Trust worked with The Trust for Public Land and the National Park Foundation to purchase the 35-acre in-holding—a privately owned piece of land completely surrounded by the park—and donate the land to the National Park Service.
The land is near Firepit Knoll, on the Kolob Terrace in the north west area of the park and is an important section of the park for hikers traveling the popular Hop Valley Trail. In protecting this area from development, visitors can continue to enjoy the natural landscape unique to Zion.
The Park Trust assisted our partners with this project by providing the final funds required for closing costs and due-diligence work on the property before it could be processed for donation to the National Park Service.
"National Park Trust is honored to have worked with The Trust for Public Land and National Park Foundation to permanently preserve this land for generations to come. We believe it is critical that we complete our national parks to protect them from any development within park boundaries that would diminish their status as a national treasure as well as our legacy for those future generations; this was an important step in protecting Zion National Park."

Phil Selleck, Director of Land Preservation at National Park Trust
"Visiting a national park like Zion is a once in a lifetime experience for many people. That experience should be about majesty and wonder and dramatic and unspoiled landscapes. Working with our partners to protect Firepit Knoll ensures future generations will have the opportunity to experience grand views of the Zion Wilderness unmarred by incompatible development."

Jim Petterson Southwest and Colorado Director for The Trust for Public Land
"Partnership is vital to protecting America's national treasures. The National Park Foundation's collaboration with The Trust for Public Land, National Park Trust, and donors preserves an important piece of our shared inheritance so that all people can experience it."

Will Shafroth, president of the National Park Foundation
This is the second project National Park Trust has completed within the same area in Zion National Park. In 2012, the Park Trust worked with National Parks Conservation Association and The Trust for Public Land to protect a 30 acre parcel at the base of Tabernacle Dome, just four miles from the current project.
ABOUT NATIONAL PARK TRUST
National Park Trust is a non-profit dedicated to preserving parks today and creating park stewards for tomorrow. The Park Trust is the only land trust with a comprehensive mission of protecting national parks through land acquisition, and creating a pipeline of future park stewards by getting kids to parks. Since 1983, the Park Trust has completed 66 land projects in 30 states, 1 US Territory, and Washington, DC. This school year the Park Trust will provide an estimated 27,000 kids with park trips through their nationally recognized Buddy Bison School Program and Kids to Parks Day National School Contest, both of which support Title I schools.
Find out more at www.parktrust.org
ABOUT THE TRUST FOR PUBLIC LAND
The Trust for Public Land creates parks and protects land for people, ensuring healthy, livable communities for generations to come. Millions of people live within a 10-minute walk of a Trust for Public Land park, garden, or natural area, and millions more visit these sites every year.
To support The Trust for Public Land and share why nature matters to you, visit www.tpl.org
ABOUT THE NATIONAL PARK FOUNDATION
Celebrating 50 years, the National Park Foundation is the official charity of America's national parks and nonprofit partner to the National Park Service. Chartered by Congress in 1967, the National Park Foundation raises private funds to help PROTECT more than 84 million acres of national parks through critical conservation and preservation efforts, CONNECT all Americans with their incomparable natural landscapes, vibrant culture and rich history, and ENGAGE the next generation of park stewards. In 2016, commemorating the National Park Service's 100th anniversary, the Foundation launched The Centennial Campaign for America's National Parks, a comprehensive fundraising campaign to strengthen and enhance the future of these national treasures for the next hundred years.
Find out more and become a part of the national park community at www.nationalparks.org