7th Annual 'Kids to Parks Day' Saturday, May 20, 2017 A National Celebration of Parks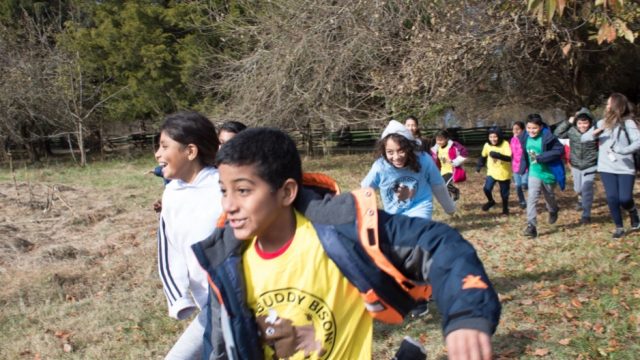 FOR IMMEDIATE RELEASE: May 8, 2017
Media Contact: Olwen Pongrace, 202.253.3190, olwen@parktrust.org
Join the conversation on Twitter: @natparktrust #kidstoparks #buddybison
Share your park experience on Facebook and Instagram: @nationalparktrust #kidstoparks #buddybison
7TH ANNUAL 'KIDS TO PARKS DAY' SATURDAY, MAY 20, 2017 A NATIONAL CELEBRATION OF PARKS
Washington, D.C., May 8, 2017 – Children, families and schools in communities across America will celebrate their local, state and national parks and public lands on Saturday, May 20th in commemoration of the 7th Annual Kids to Parks Day. National Park Trust estimates that nearly one million people will attend 1,000 park events across the country in what is fast becoming America's national day of outdoor play.
"Children of all ages – in unprecedented numbers – will be engaging with our local, state and national parks on May 20th. We are excited to collaborate this year with Hike it Baby, engaging our youngest park stewards and families with 200 Hike it Baby events planned across America to celebrate Kids to Parks Day."

Grace Lee, Executive Director, National Park Trust
The US Senate passed a resolution of support, co-sponsored by Senators Ron Wyden (D-OR), Lamar Alexander (R-TN), Martin Heinrich (D-NM), Rob Portman (R-OH), Cory Booker (D-NJ) and Mazie K. Hirono (D-HI).
Mayors from more than 350 cities and towns – including Chicago (IL), Boston (MA), Philadelphia (PA), Orlando (FL), Dallas (TX), San Diego (CA), Atlanta (GA), Tucson (AZ), Chattanooga (TN), Portland (OR), Vineland (NJ), Denver (CO), and Youngstown (OH) have signed resolutions of support and are planning Kids to Parks Day events on May 20th.
Visit www.kidstoparks.org for a complete list of park events by state and downloadable tips and activity guides to help children, families and teachers plan park adventures. Those who pledge to participate will also have a chance to win a camping package from The North Face including a tent, 4 sleeping bags and a duffel bag.
Kids to Parks Day national sponsors include:
Northside
FirstEnergy Foundation
Guest Services, Inc.
Boy Scouts of America
M&T Bank
PBS Kids' Nature Cat
CamelBak
The North Face
Eastern National
National Park Trust's Kids to Parks Day has the support of the National Park Service and America's State Parks. Other Park Trust collaborators include: the National League of Cities' Institute for Youth, Education, and Families; American Academy of Pediatrics; National Recreation and Park Association; U.S. Army Corps of Engineers; National Geographic Kids; American Hiking Society; Children & Nature Network; National Wildlife Federation; Sierra Club; Outdoors Alliance for Kids; National Environmental Education Foundation; American Recreation Coalition; National Parks Conservation Association; The Wilderness Society; Girl Scouts Nation's Capital; and Outdoor Families Magazine.
Kids to Parks Day is the signature event of the Park Trust's popular Buddy Bison® School Program which teaches environmental education. Through its woolly mascot Buddy Bison, the Park Trust encourages children to "Explore outdoors, the parks are yours!" More than 60 elementary and middle Title I schools in 15 states and Washington, D.C. participate in the Buddy Bison School Program, which provides classroom resources and fully funded park trips that enhance and expand school curricula.
In 2012, the Park Trust launched the Kids to Parks Day National School Contest. This year, the Park Trust awarded park grants to 70 Title I schools in 28 states and Washington, D.C. benefiting nearly 4,000 children, grades pre-K through 12. The grants will help students put their ideas into action and visit, learn, steward and play in their local, state and national parks and public lands this month.
ABOUT NATIONAL PARK TRUST
National Park Trust is a 501(c)(3) nonprofit dedicated to the preservation and protection of our national parks and the engagement of our youth – especially those who are under-served – with our country's public lands and water. As people spend more time indoors and as successive generations grow up with less of a connection to nature, the Park Trust wants everyone to have an American park experience. To achieve this, the Park Trust is preserving parks today and creating park stewards for tomorrow (parktrust.org; kidstoparks.org).
###