8th Annual Kids to Parks Day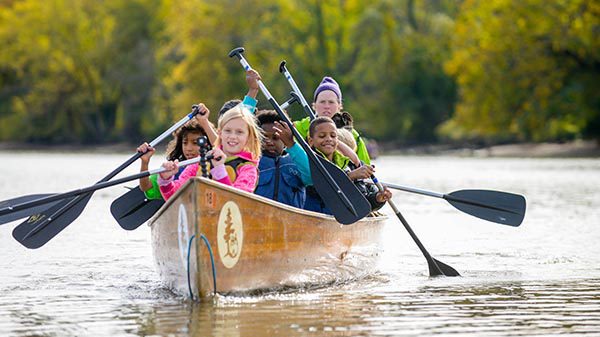 A National Celebration of Parks
WASHINGTON, May 9, 2018 /PRNewswire-USNewswire/ — In celebration of Kids to Parks Day, held annually the third Saturday in May, millions of Americans will join National Park Trust and its many partners on May 19th to honor America's parks and public lands by attending over 1000 free park events in all 50 states and Washington, D.C.
The United States Senate passed a resolution of support declaring May 19, 2018 Kids to Parks Day.
"The Park Trust hopes families across America will commemorate Kids to Parks Day by planning a fun family outing or attending a park event, joining a collective celebration in what has become our national day of outdoor play."

Grace Lee, Executive Director of National Park Trust.
New in 2018, National Park Trust is partnering with Blue Star Families (BSF) to host park events specifically for active duty military and their families. Eleven BSF chapters will organize 18 park events across the country.
"Partnering with Blue Star Families, connecting military families to parks, is an honor and we are so pleased that Kids to Parks Day also falls on Armed Forces Day."

Grace Lee, Executive Director of National Park Trust.
"Working with National Park Trust, Blue Star Families is creating special opportunities to enjoy, learn and connect with America's outdoor treasures that service members protect every day."

Suzi Guardia, Senior Advisor for Neighborhood Engagement at BSF
Mayors from over 400 cities and towns – including Chicago (IL), Boston (MA), Philadelphia (PA), Miami-Dade County (FL), Arlington (TX), San Jose (CA), Los Angeles (CA), Tucson (AZ), Hawaii County (HI), Chattanooga (TN), Portland (OR), Newark(NJ), Denver (CO), Anchorage (AK), and Cleveland (OH) have signed resolutions of support.
Visit www.kidstoparks.org for a complete list of park events by state and downloadable tips and activity guides to help children, families and teachers plan park adventures. Those who pledge to participate will also have a chance to win a camping package from The North Face including a tent and 4 sleeping bags.
Kids to Parks Day sponsors include:
Wyss Foundation
First Solar
Northside
Guest Services Inc.
FirstEnergy Foundation
PBS Kids' Nature Cat
National Parks Conservation Association
USDA Forest Service
The North Face
National Geographic Kids
Eastern National
Kids to Parks Day Partners include:
Outdoors Alliance for Kids
National Park Service
Blue Star Families
America's State Parks
National Recreation and Park Association
Sierra Club
Hike it Baby
Corazón Latino
PBS Kids' Plum Landing
National League of Cities' Institute for Youth, Education, and Families
National Wildlife Federation
YMCA
City Parks Alliance
Children & Nature Network
US Army Corps of Engineers
Outdoor Project
US Play Coalition
Boy Scouts of America
The Wilderness Society
American Academy of Pediatrics
Outdoor Recreation Roundtable
The Coalition to Protect America's National Parks
Recreational Boating and Fishing Foundation
Kids to Parks Day is the signature event of the Park Trust's popular Buddy Bison® School Program which teaches environmental education. Through its woolly mascot Buddy Bison, the Park Trust encourages children to "Explore outdoors, the parks are yours!" More than 65 elementary and middle Title I schools, in 17 states and Washington, D.C. participate in the Buddy Bison School Program, which provides classroom resources and fully funded park trips that enhance and expand school curricula.
In 2012, the Park Trust launched the Kids to Parks Day National School Contest. This year, the Park Trust awarded park grants to 92 Title I schools in 35 states and Washington, D.C. benefiting more than 5,100 children, grades K through 12. The grants will help students put their ideas into action and visit, learn, steward and play in their local, state and national parks and public lands.
ABOUT NATIONAL PARK TRUST
National Park Trust is a 501(c)(3) nonprofit dedicated to the preservation and protection of our national parks and the engagement of our youth – especially those who are under-served – with our country's public lands and water. As people spend more time indoors and as successive generations grow up with less of a connection to nature, the Park Trust wants everyone to have an American park experience. To achieve this, the Park Trust is preserving parks today and creating park stewards for tomorrow (parktrust.org; kidstoparks.org).
SHARE KIDS TO PARKS DAY!
Facebook and Instagram: @NationalParkTrust #KidstoParks #BuddyBison
Twitter: @NatParkTrust #KidstoParks #BuddyBison