From Corporate America to the Classroom: Teacher Awarded Fellowship with National Park Trust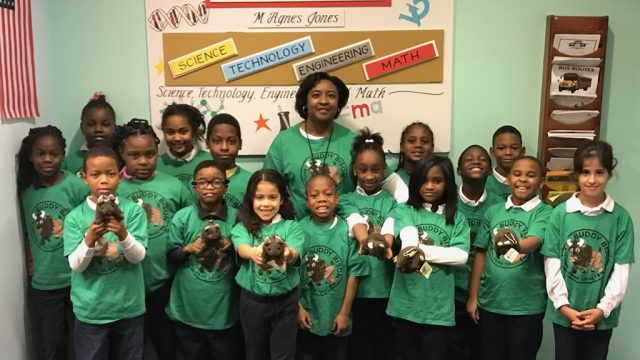 Washington, DC (April 16, 2019) – National Park Trust is pleased to announce that Chelsea Vines, a 3rd-grade teacher from M. Agnes Jones Elementary School in Atlanta, GA, has been selected as the Park Trust's Youth Programs Fellow.
As a two-year fellow, Ms. Vines will serve as an education advisor to the Park Trust Board of Trustees as a member of the board's youth programs committee. She will also participate in board meetings including an annual fall meeting in a national park.
The Park Trust has worked closely with Ms. Vines since 2014 when M. Agnes Jones was welcomed into its national Buddy Bison School Program to provide outdoor environmental education for their 3rd-grade students—thanks to a multi-year sponsorship from the Georgia-Pacific Foundation.
Prior to becoming a teacher, Ms. Vines was a financial services manager for a major Fortune 500 corporation in Atlanta; however, in 2005 she decided to leave the corporate world in search of something more personally fulfilling. She was selected as a 2006 Teach for America Corps Member and upon completion of their rigorous summer institute, she was placed as a 1st-grade teacher at M. Agnes Jones Elementary, a Title I school in downtown Atlanta where over 98% of the students receive free or reduced-price lunch. Over the years, while she has changed grade levels within the school, she has always been passionate about providing new enriching opportunities for her students.
"I'm honored to be named the newest National Park Trust Youth Programs Fellow. The Park Trust continues to give our students the opportunity to see and experience their community in a different light. The Park Trust provides real-life experiences for kids who would only 'see' what they learn in a textbook."

Chelsea Vines, 3rd Grade Teacher, M. Agnes Jones Elementary (GA)
Because of the support from the Georgia-Pacific Foundation, Ms. Vines has been able to incorporate environmental education, outdoor recreation, and stewardship—the 3 pillars of the Buddy Bison School Program—into every aspect of her classroom. She was integral in securing STEM accreditation for her school as part of a committee of teachers who worked to inspire others by incorporating STEM lessons across the curriculum. Thanks to the efforts of that committee, M. Agnes Jones was the first school in Atlanta to receive full STEM accreditation, and most recently STEAM, accreditation.
"Students' lives have changed significantly through inspirational teachers such as Ms. Vines and the impactful programs offered through the Park Trust. Georgia-Pacific is proud to be a long-standing supporter of the Buddy Bison School Program and educators in our community."

JaKathryn Ross, Georgia-Pacific's Senior Director of Community Affairs
Ms. Vines has witnessed first-hand the difference that an outdoor education can have in allowing students to learn in their own way. In 2018, one of her students was completely non-verbal, but when he had the opportunity to learn about farming by harvesting radishes at Serenbe Farms during one of the Buddy Bison field trips, he surprised everyone by exclaiming with glee, "Look! I have a radish!"
Because of her extraordinary efforts to connect her students with the benefits of the great outdoors, Ms. Vines was also the recipient of the Park Trust's 2018 National Educator Award for Outstanding Environmental Stewardship.
"With her unique background and dedication to surrounding her students with STEM education opportunities, she is an ideal teacher to become the Park Trust's newest fellow. She ties her classroom into the wider world and provides a rich experience for every student."

Billy Schrack, Director of Youth Programs, National Park Trust
ABOUT NATIONAL PARK TRUST
National Park Trust is a non-profit dedicated to preserving parks today and creating park stewards for tomorrow. The Park Trust is the only land trust with a comprehensive mission of protecting national parks through land acquisition and creating a pipeline of future park stewards by getting kids to parks. Since 1983, the Park Trust has completed 70 land projects in 31 states, 1 US Territory, and Washington, DC. This school year, the Park Trust will provide an estimated 25,000 under-served kids with park trips through their nationally recognized Buddy Bison Programs and Kids to Parks Day National School Contest, both of which support Title I schools.
Find out more at www.parktrust.org.
###