Hawai'i Elementary School Teacher Receives 2021 National Award for Outstanding Environmental Stewardship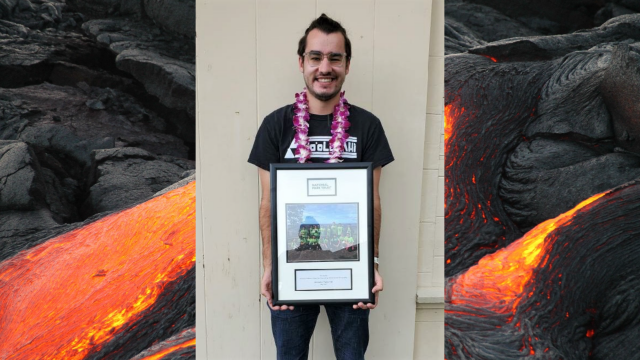 FOR IMMEDIATE RELEASE: May 18, 2021
Washington, D.C. (May 18, 2021) – National Park Trust is pleased to announce that Christopher (Topher) Pike, a fourth-grade science, social studies, and writing teacher at Honaunau Elementary School in Captain Cook, HI is the recipient of National Park Trust's 2021 National Educator Award for Outstanding Environmental Stewardship. The annual award — also known as "The Buddy" in honor of the Park Trust's woolly mascot Buddy Bison — recognizes an educator who has made a significant impact on his or her students' understanding of the natural world and the importance of protecting our nation's treasured parks, public lands, and waters.
Mr. Pike has a passion for introducing his students to our public lands, which is demonstrated by his annual participation in the Kids to Parks Day School Grants Program since 2017. Over the last five years, Mr. Pike's third and fourth-grade students have used the resources from their winning grants to enjoy visits to Kaloko-Honokohau National Park and Hawai'i Volcanoes National Park. When COVID-19 restrictions canceled the 3rd grade's Kids to Parks Day trip, Mr. Pike used his technological know-how to pivot to a virtual experience for his students. In the Fall of 2020, his students used their 2020 Kids to Parks Day grant funding to create their own virtual story map of Pu'uhonau O Honaunau National Park.
"We enthusiastically recognize Topher Pike with our 2021 National Educator Award for Outstanding Environmental Stewardship. Topher's passion for connecting kids to parks is reflected in his innovative approach to teaching. Because of his efforts and dedication, hundreds of children in Hawai'i, who had never visited their local national parks, have had transformational park experiences. We look forward to working with him and his students for many years to come."

Grace Lee, executive director, National Park Trust
"I am honored to accept this award from the National Park Trust. The goal of getting every kid outdoors is vital for the future of our students and the global community. When we ground students' learning in place it not only allows them to draw connections from the classroom to their daily lives, but it also helps them grow their respect and appreciation for the lands and resources of their home. I am lucky to guide students in Honaunau and across Hawai'i as they explore the outdoors and look forward to the future as I learn from them and see how they will protect our environment for generations to come."

Topher Pike
ABOUT NATIONAL PARK TRUST
National Park Trust is a non-profit dedicated to the protection of our national parks. The Park Trust preserves parks today and creates park stewards for tomorrow by acquiring the missing pieces of our national parks and building a pipeline of future caretakers of our public lands and waters by getting kids to parks. Since 1983, the Park Trust has completed 76 land projects in 32 states, one U.S. Territory, and Washington, D.C. Our national Buddy Bison Programs and Kids to Parks Day support 300 Title I schools annually in under-served communities. Find out more at parktrust.org.
Media Contact: Ivan Levin at 540.818.5818 or ivan@parktrust.org.
###