Military Families from the Seattle/Tacoma Area Discover Aquatic Life at Mt. Rainier National Park
FOR IMMEDIATE RELEASE: August 22, 2023
Washington, D.C. (August 22, 2023) – The National Park Trust, National Park Service (NPS), and Our Military Kids partnered earlier this month to bring military personnel and their families to Mount Rainier National Park in Washington State for a day of aquatic citizen science at Mowich Lake, the largest and deepest lake in the park.
National Park Trust was awarded funds by NPS and is partnering with Our Military Kids to provide National Guard, Reserve, and post-9/11 combat-injured service members and their families access to outdoor recreation opportunities in national park sites nationwide. At Mount Rainier, families started their day learning how the park monitors the health of Mowich Lake and its role in measuring climate change and biodiversity. In the afternoon, families put on their rubber boots, got into the water, and joined park biologists in searching the lake for examples of the numerous aquatic organisms that call the park home.

"We are thrilled to be working with the National Park Trust and Mount Rainier National Park. Military families have served and sacrificed, and this outing was an opportunity for OMK families to learn about aquatic life while also enjoying a day on Mowich Lake."   

Kara Dallman, retired U.S. Navy Veteran and Executive Director of Our Military Kids
As part of this event, participating military families were presented with their Interagency Military Annual Pass, which provides entrance or access for one year to more than 2,000 federal recreational sites, including all National Park Service sites, for current military members and their dependents.
"As a small gesture of support for the sacrifices these servicemember families have made, our park is pleased to provide these families with military annual passes. We hope that by visiting Mowich Lake and learning more about the park's aquatic ecosystems through hands-on science, the children will develop a close connection to the park and be inspired to return with their families."

Kevin Skerl, deputy superintendent at Mount Rainier National Park.
"National Park Trust is honored to partner with Our Military Kids and the National Park Service to engage military families with a service member in the National Guard or Reserve or in treatment for combat-related injuries as we work to establish lifelong relationships between local military communities and local national park sites. Exposing families to outdoor education and recreation will help ensure future generations of park enthusiasts."

Grace Lee, National Park Trust executive director
This event at Mount Rainier National Park is the second of four outdoor recreation events in 2023 at national park sites across the country. Other event locations include Assateague National Seashore, MD, Biscayne National Park, FL, and Cabrillo National Monument, CA.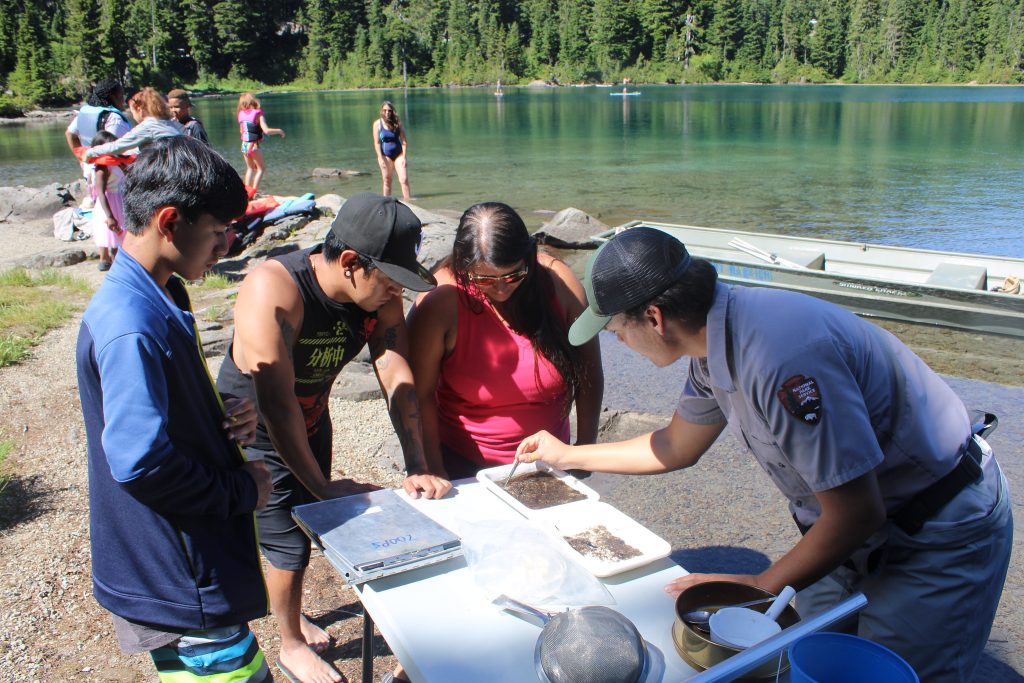 ABOUT NATIONAL PARK TRUST
Celebrating its 40th anniversary in 2023, National Park Trust's mission is to preserve parks today and create park stewards for tomorrow. Since 1983, the Park Trust has acquired many of the missing pieces of our national parks, benefiting 53 national park sites. Our national youth education and family initiatives, including our Buddy Bison Programs and National Kids to Parks Day, serve hundreds of Title I schools annually and cultivate future park stewards. We believe that our public parks, lands, and waters should be cared for, enjoyed, and preserved by all for current and future generations. Find out more at parktrust.org.
Media Contact: Ivan Levin at 540.818.5818 or ivan@parktrust.org.
ABOUT OUR MILITARY KIDS
Our Military Kids® is a national 501(c)(3) nonprofit offering extracurricular activity grants to children, ages 3-18, of deployed National Guard, deployed Reserve, or post-9/11 combat wounded, ill, or injured Veterans in treatment. OMK activity grants build the children's self-confidence, enhance family wellness, and strengthen a shared sense of community.
Since 2004, Our Military Kids has proudly provided 85,000 activity scholarships worth $32 million to children and teens in all 50 states, U.S. territories, and the District of Columbia. For more information, please visit ourmilitarykids.org.
Media Contact: Michelle Criqui at 703-734-6654 or media@ourmilitarykids.org.
ABOUT THE NATIONAL PARK SERVICE
More than 20,000 National Park Service employees care for America's 425 national parks and work with communities across the nation to help preserve local history and create close-to-home recreational opportunities. Learn more at www.nps.gov, and on Facebook, Instagram, Twitter, and YouTube.
###