National Park Trust and Caribbean Sol Partner to Protect Marine Ecosystems, Coral Reefs, and National Parks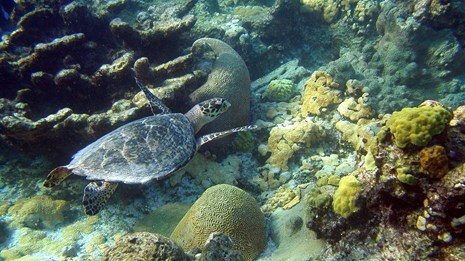 FOR IMMEDIATE RELEASE: November 12, 2019
Washington, D.C., November 12, 2019 – National Park Trust today announced a new exclusive partnership with Caribbean Sol to protect national parks, coral reefs, and other marine ecosystems.
Common ingredients used in thousands of sun care products meant to protect against the harmful effects of ultraviolet light threaten corals and other marine life. Such ingredients have caused coral bleaching, algae blooms, and health problems in fish and dolphins, and may also be harmful to human health. These products are often sold in plastic packaging which continues to pollute our oceans.
To address this important environmental issue, National Park Trust and Caribbean Sol are launching a nationwide campaign to promote responsible sun safety for people who visit national parks, public lands and waters. The goals of the campaign are to:
Identify sun safety ingredients that are safe to use, and will not harm our parks, coral reefs, and public waterways.
Understand the plastics pollution issue facing our parks and how they can help address this issue; and
Plan outdoor experiences that are safe, enjoyable, and environmentally friendly
Healthy coral reefs are one of the most valuable ecosystems in the world. As one of the most biodiverse marine areas on the planet, reefs house hundreds and even thousands of species. They also provide billions of dollars in economic and environmental services, such as food, coastal protection, and tourism.
In addition, this partnership will make it possible for Park Trust to continue preserving waterways and introducing young people from under-served communities to the many benefits of outdoor recreation as they learn about the importance of protecting our precious natural resources.
"Caribbean Sol's support for National Park Trust will not only help kids and families be prepared to enjoy the outdoors, but also will inspire us to be proactive in preserving and caring for our oceans, rivers, and lakes."

Grace Lee, Executive Director, National Park Trust
"We are honored to work with National Park Trust on this new partnership to protect our precious marine life and educate the public on how they can keep our natural environments safe for generations to come. With research and feedback from tour operators about the harms of chemicals in sunscreen on marine life, we formulated a truly natural, chemical-free sunscreen that protects families and helps preserve our national treasures."

Bruce Shanks, President, Caribbean Sol
ABOUT NATIONAL PARK TRUST
National Park Trust is a non-profit dedicated to preserving parks today and creating park stewards for tomorrow. The Park Trust is the only land trust with a comprehensive mission of protecting national parks through land acquisition and creating a pipeline of future park stewards by getting kids to parks. Since 1983, the Park Trust has preserved over 30,000 acres in 31 states, 1 US Territory, and Washington, DC. This year, the Park Trust engaged over 1 million people in their Annual Kids to Parks Day and will provide an estimated 25,000 under-served kids with park trips through their nationally recognized Buddy Bison School Program. Find out more at www.parktrust.org.
ABOUT CARIBBEAN SOL
Caribbean Sol is an all-natural sun & skincare brand created in Orlando, FL to provide a truly natural solution for sun protection. With ingredients made from earth, Caribbean Sol products are fully compatible with nature and do not cause any harm to the ecosystem. Caribbean Sol offers a solution to the chemical sunscreen epidemic that is damaging our marine environment. For more information, visit www.caribbean-sol.com.