National Park Trust and Wreaths Across America Honor Veterans on the National Mall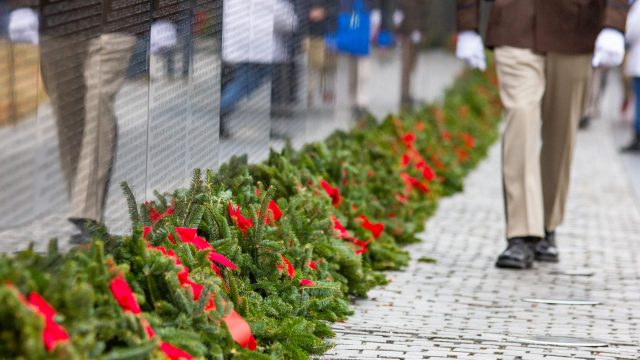 December 12, 2018 (Washington, DC) – In advance of National Wreaths Across America Day, National Park Trust and the non-profit Wreaths Across America will host several wreath-laying ceremonies on the National Mall to honor veterans and fallen service members from the Vietnam Veterans War Memorial, Korean War Memorial, and the World War II Memorial on Friday, December 14, 2018.
As part of Wreaths Across America's mission to "Remember – Honor – Teach," forty students from National Park Trust's Buddy Bison School Program (West Education Campus, a Washington, DC public school) will be assisting in the ceremony as they learn the importance of the memorials and the purpose behind honoring these memorials during the holiday season. The ceremonies on the National Mall are done in collaboration with the Maine Sheriffs Association.
"We are pleased to be able to work with Wreaths Across America and National Park Service to educate our Buddy Bison students about the importance of remembering and honoring those who have sacrificed their lives for our nation," stated Grace Lee, National Park Trust executive director.
Speakers will include Major General James T. Jackson, U.S. Army (Retired) Director, U.S. Vietnam War Commemoration (Vietnam War Memorial Speaker); David L. Bernhardt, United States Deputy Secretary of the Interior (WWII Memorial Speaker); Morrill & Karen Worcester, founder and executive director (respectively), Wreaths Across America; Wayne Hanson, chairman of the board of directors, Wreaths Across America.
The ceremonies will begin at the Vietnam War Memorial at 1:30 pm. All ceremonies will be open to the public. Coinciding with these events, the Wreaths Across America Mobile Education Exhibit will be stationed on the National Mall throughout the day (8 am – 1 pm) and open to the public.
ABOUT WREATHS ACROSS AMERICA
Wreaths Across America is a 501(c)(3) nonprofit organization founded to continue and expand the annual wreath-laying ceremony at Arlington National Cemetery begun by Maine businessman Morrill Worcester in 1992. The organization's mission – Remember, Honor, Teach – is carried out in part each year by coordinating wreath-laying ceremonies in December at Arlington National Cemetery, as well as at more than 1,600 cemeteries and other locations in all 50 states and 26 overseas. To learn more, please visit www.wreathsacrossamerica.org
ABOUT NATIONAL PARK TRUST
National Park Trust is a non-profit dedicated to preserving parks today and creating park stewards for tomorrow. The Park Trust is the only land trust with a comprehensive mission of protecting national parks through land acquisition and creating a pipeline of future park stewards by getting kids to parks. Since 1983, the Park Trust has completed 70 land projects in 31 states, 1 US Territory, and Washington, DC. This school year, the Park Trust will provide an estimated 25,000 under-served kids with park trips through their nationally recognized Buddy Bison Programs and Kids to Parks Day National School Contest, both of which support Title I schools.
Find out more at www.parktrust.org
ABOUT MAINE SHERIFF'S ASSOCIATION
The Maine Sheriffs' Association (MSA) is a non-profit organization that coordinates law enforcement and corrections activities with other related agencies. It works to improve and professionalize the sheriffs' offices in Maine and to assure that all citizens receive the highest quality law enforcement and jail services in an efficient, courteous, and humane manner.
To learn more, visit http://www.mainesheriffs.org