National Park Trust Announces 2022 Kids To Parks Day School Grants Recipients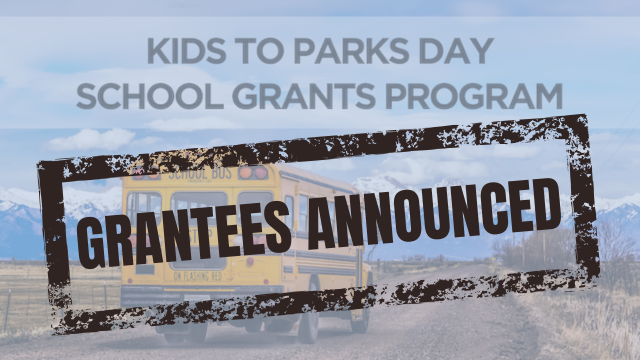 FOR IMMEDIATE RELEASE: March 3, 2022
111 Grants To Benefit 93 Title I Schools Across the United States
Washington, D.C. March 3, 2022 – The National Park Trust is pleased to announce the recipients of this year's Kids to Park Day School Grants Program. The annual grants are awarded to under-served schools to help students discover and explore parks, public lands, and waters.
Due to COVID-19, this year's grants fund both virtual and in-person park experiences, providing classrooms with up to $500 for distance learning experiences or up to $1,000 for in-park experiences.
93 Title I schools were selected as grantees, impacting more than 5,900 students in grades pre-K through 12, representing 40 states and Washington, DC. Lead support for this year's program was provided by memorial gifts to the Park Trust in honor of Frank Lee Ruggles, a former eminent photographer for the National Park Service's Digital Imaging Project, author of Chasing Light, An Exploration of the American Landscape, Army veteran, and the first Artist Ambassador for the Park Trust. Additional funding for the program generously comes from First Solar Community Giving Fund, administered by the Greater Toledo Community Foundation, and The Wyss Foundation.
"We received a record number of grant proposals this year, which reflects how eager students and teachers are to enjoy our public lands and waters together after the impact of COVID,"' stated Grace Lee, National Park Trust executive director. "Due to the generosity of Frank Lee Ruggles's loved ones, we are able to honor his legacy and memory by engaging thousands of students with the magic of the great outdoors."
The school grants program is a part of Kids to Parks Day, an annual nationwide day of outdoor play celebrated every third Saturday in May at public lands and waters across the United States. This grants program is designed to be student-driven, and student-teacher collaboration is a must. All experiences must include a stewardship element; a park-themed educational component in environmental science or history; and an outdoor recreation health and wellness element.
Highlights of this year's proposals:
87 unique sites will be visited, including national, state, and local parks and historic sites
49 elementary schools, 28 middle schools, and 16 high schools were awarded grants
Trips range from from Honoka'a High (HI) taking an overnight trip to Hawai'i Volcanoes National Park, to Caverna Middle School (KY) exploring the caves at Mammoth Cave National Park, to Bogue Sound Elementary School (NC) leading a beach clean up at Cape Lookout National Seashore
For the complete list of 2022 Kids to Parks Day School Grants recipients, click here.
ABOUT NATIONAL PARK TRUST
National Park Trust is a non-profit dedicated to the protection of our national parks. The Park Trust preserves parks today and creates park stewards for tomorrow by acquiring the missing pieces of our national parks and building a pipeline of future caretakers of our public lands and waters by getting kids to parks. Since 1983, the Park Trust has completed 73 land projects in 31 states, one U.S. Territory, and Washington, D.C. Our national Buddy Bison Programs and Kids to Parks Day support 300 Title I schools annually in under-served communities.
Find out more at parktrust.org.
Media Contact: Ivan Levin at 540.818.5818 or ivan@parktrust.org.
###
Updated on March 10, 2022