National Park Trust Announces New Board Chair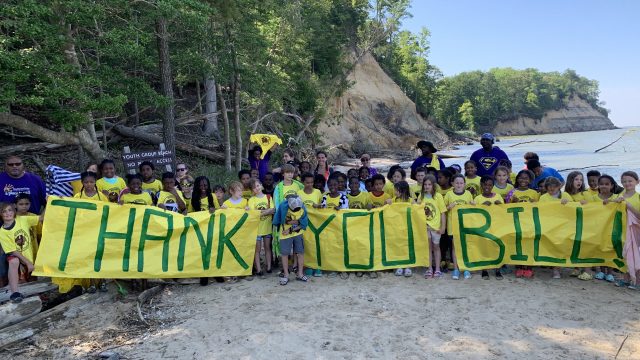 FOR IMMEDIATE RELEASE: July 5, 2022
Bill Brownell Stepping Down as Board Chair After 16 Years of Transformational Leadership; Scott Stone Unanimously Elected to Succeed Him
Washington, D.C. (July 5, 2022) – Bill Brownell, the longtime chair of the National Park Trust's Board of Trustees, is stepping down after 16 years of extraordinary service and will be succeeded by board member Scott Stone, the Park Trust announced today.
Brownell, a partner at the law firm of Hunton Andrews Kurth, has guided the Park Trust's board since 2006, helping the Washington, DC-based 501(c)(3) nonprofit organization expand its mission from solely a land trust that acquires the "missing pieces" of our national parks to include youth programs serving schools, families, and children across the country.
"The Park Trust has been so fortunate to have Bill Brownell at the helm of the organization for 16 years,… His innovative and transformational leadership has not only benefited our organization but also numerous national park sites and tens of thousands of under-served students across the country each year."

Grace Lee, executive director of the National Park Trust

Early in his tenure with the Park Trust, Brownell was instrumental in helping the organization create the Tallgrass Prairie National Preserve as a new unit of the National Park Service in Kansas.
The landmark project was hailed as a wonderful success but strained the Park Trust's limited resources. In response, Brownell spearheaded a new strategic plan that prioritized financial stability and organizational sustainability, enhanced the Park Trust's land acquisition work, and attracted new talent on the board and staff.
Brownell's leadership also led to the expanded mission of the Park Trust to engage kids with parks, public lands, and waters with a special focus on under-served communities. This evolved into the Park Trust's nationally recognized Buddy Bison Programs, National Kids to Parks Day, along with several additional innovative youth programs designed to connect military families and college students with the great outdoors.
"It was important for the Park Trust to respond to the call to action from the National Park Service for greater emphasis and attention on America's youth, especially those from diverse communities,.. Together with our work to acquire privately owned land inside and adjacent to national parks and donate that land to the parks, our youth programs have helped the Park Trust become a valued partner to the National Park Service."

Bill Brownell, former board chair of the national park trust
Over the last decade, the Park Trust has grown significantly, with a lengthy pipeline of land projects and a broad portfolio of youth and family programs supporting 70,000 under-served students each year.
"During Bill's tenure, the Park Trust's annual budget has grown tenfold, reflecting the value of its strategy and programs and the talent and commitment of its diverse board and staff," Lee said. "Bill has been at the heart of this growth, and as we transition to new leadership at the board, we're excited to continue to grow and support our national park sites and youth from kindergarten to college."
Scott Stone has served on the Park Trust board since 2017, previously chairing the board's communications committee and digital education working group while also serving on the board's awards, development, governance, and executive committees.
"We are excited to welcome Scott Stone as the new board chair,..He has already been a strong asset to the board, and we look forward to working with him as we continue to expand the impact of our mission and programs."

Grace Lee, executive director of the National Park Trust
Early in his career, Stone practiced environmental law with Brownell at Hunton Andrews Kurth before going on to found Lookfar Conservation, a nonprofit that advises charitable foundations and small, local conservation groups in Latin America and Sub-Saharan Africa. Stone also runs Glencoe Strategies LLC, a climate change and conservation policy consulting firm based in the Chicago area.
"I'm humbled and excited by this opportunity to help the National Park Trust continue to grow as an organization, preserving and protecting public lands and connecting kids across the country to our national parks,.. Bill has been a great mentor and friend, and it's an honor to follow in his footsteps and have the chance to work with the wonderfully talented and committed people on the Park Trust's staff and board."

Scott Stone, board chair of the national park trust
ABOUT NATIONAL PARK TRUST
National Park Trust's mission is to preserve parks today and create park stewards for tomorrow. Since 1983, the Park Trust has acquired many of the missing pieces of our national parks, benefiting 51 national park sites. Our national youth education and family initiatives, including our Buddy Bison Programs and National Kids to Parks Day, serve nearly 300 Title I schools annually and cultivate future park stewards. We believe that our public parks, lands, and waters should be cared for, enjoyed by, and preserved by all for current and future generations. Find out more at parktrust.org.
Media Contact: Ivan Levin at 540.818.5818 or ivan@parktrust.org.
Featured photo: Buddy Bison School E.W. Stokes Public Charter School (DC) celebrates Bill's leadership while camping at Calvert Cliffs State Park (MD)