National Park Trust Honors U.S. Congresswoman Diana DeGette with the 2023 Bruce F. Vento Public Service Award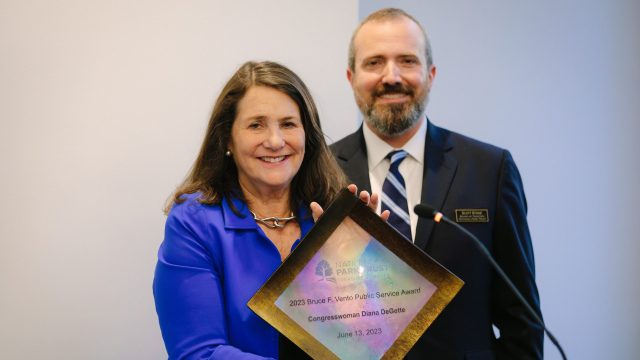 FOR IMMEDIATE RELEASE: June 15, 2023
Washington, D.C. (June 15, 2023) – On June 13th, National Park Trust honored Congresswoman Diana DeGette (D-CO, 1st District) with the 23rd Bruce F. Vento Public Service Award in Washington, DC. This national award honors a public servant for his or her commitment to the environment and their service, skill, and innovation in support of our public lands and waters.
"Congresswoman DeGette is a life-long Coloradan and a 14-term representative who has worked tirelessly to protect our national parks and public lands and to ensure that our children have access to these important resources."

Scott Stone, National Park Trust Board Chair
"It's an honor to be recognized by the National Park Trust and receive this year's Bruce F. Vento Public Service Award. As someone who grew up exploring our nation's public lands and has fond memories of taking my children hiking and camping, I know how important these often-irreplaceable landscapes are – not just to our environment and economy, but to our way of life. That's why one of my top priorities, since my very first days in Congress, has been fighting to preserve and protect more of our nation's public lands for future generations to enjoy."

Congresswoman Diana DeGette
National Park Trust recognized Congresswoman DeGette's role as the lead sponsor of the Every Kid Outdoors Act, signed into law in 2019, which codifies the Department of Interior's Every Kid Outdoors program giving 4th graders and their families free access to our nation's public lands and waterways for an entire year.
In addition, her support for the National Park Service has resulted in a breadth of critically important funding ranging from resources for general operations to specific programs that protect our wild and scenic rivers, battlefields, and historic and cultural sites.
Furthermore, Congresswoman DeGette has introduced one of the largest land-protection packages Congress has ever considered, the Protecting America's Wilderness and Public Lands Act. If passed, it would permanently preserve nearly 1.5 million acres of public lands across the West, including more than 1 million acres in her home state of Colorado.
National Park Trust established the Bruce F. Vento Public Service Award in 2001 to honor the memory and legacy of Bruce F. Vento, a twelve-term Minnesota congressman and former chair of the National Resources Subcommittee on National Parks, Forests, and Public Lands. As a dedicated environmentalist, Vento was a champion of more than 300 bills that protect our nation's public lands and water.
"Congresswoman DeGette truly deserves this recognition for her exceptional advocacy for our national parks and the Park Trust's youth programs. She joins a group of remarkable recipients of this award."

Sue Vento, National Park Trust Advisory Board Member
Past recipients include:
Rep. Fred Upton (MI)
Sen. Patty Murray (WA)
Sen. Maize Hirono (HI)
Sen. Richard Burr (NC)
Sen. Martin Heinrich (NM)
Sen. Lamar Alexander (TN)
Rep. Betty McCollum (MN)
Sen. Rob Portman (OH)
Sen. Ron Wyden (OR)
Rep. Mike Simpson (ID)
Sen. Jeff Bingaman (NM)
Sen. Susan Collins (ME)
Sen. Mark Udall (CO)
Gov. Arnold Schwarzenegger (CA)
Sen. Harry Reid (NV)
Rep. George Miller (CA)
Sen. John McCain (AZ)
Sen. Bob Graham (FL)
Rep. John Lewis (GA)
Rep. Connie Morella (MD)
Rep. John Seiberling (OH)
Lt. Gov. Lowell Thomas, Jr (AK)
All proceeds from the Vento Award event benefit the Park Trust's mission and programs.
ABOUT NATIONAL PARK TRUST
Celebrating its 40th anniversary in 2023, National Park Trust's mission is to preserve parks today and create park stewards for tomorrow. Since 1983, the Park Trust has acquired many of the missing pieces of our national parks, benefiting 52 national park sites. Our national youth education and family initiatives, including our Buddy Bison Programs and National Kids to Parks Day, serve hundreds of Title I schools annually and cultivate future park stewards. We believe that our public parks, lands, and waters should be cared for, enjoyed, and preserved by all for current and future generations. Find out more at parktrust.org.
Media Contact: Ivan Levin at 540.818.5818 or ivan@parktrust.org