National Park Trust Unveils Free ParkPassport App 2.0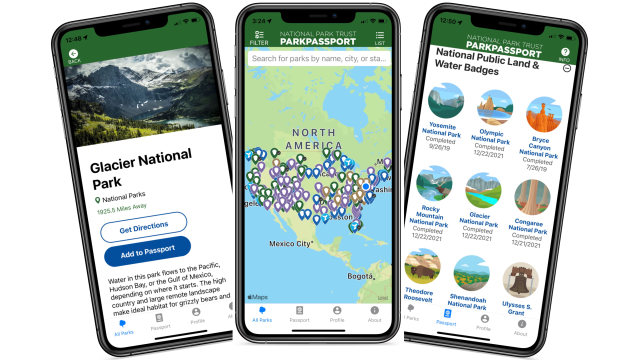 FOR IMMEDIATE RELEASE: January 11, 2022
Enhanced Park Exploration App Offers Outdoor Enthusiasts and Families Exciting New Features to Discover Local, Regional, State, and National Parks
Washington, D.C. (January 11, 2022) – National Park Trust, a nonprofit organization dedicated to preserving parks today and creating park stewards for tomorrow, announced the launch of its free ParkPassport 2.0 app. The enhanced app helps users create memorable park experiences with a robust database to find, explore and engage with national, state, regional, and local parks and public lands and waters across the United States.
"The ParkPassport App is the most comprehensive collection of activities, information, and resources on local, state, and national public lands and waters offered on a free platform."

Grace Lee, executive director, National Park Trust
An expanded partnership with the National Park Service and new partnerships with the U.S. Army Corps of Engineers, National Oceanic and Atmospheric Association, and Missouri State Parks make the updated ParkPassport App a 'must have' resource for outdoor enthusiasts in 2022.
National Park Trust has improved the user experience with the following enhancements and new features to ParkPassport 2.0:
Updated Park Finder helps users discover nearby parks anywhere in America now featuring over 600 new park locations to further explore. In addition to the 63 national parks, included in 2.0 are the U.S. Army Corps of Engineers' 463 lakes and rivers, Missouri's 93 state parks, and the National Oceanic and Atmospheric Association's17 National Marine Sanctuaries and Marine National Monuments.
New Badges in the Digital Passport are availablefor different parks and outdoor activities, including custom badges for all national parks, National Marine Sanctuaries and Monuments, and Missouri State Parks.
Offline Functionality now allows users to track their park visits and activities and access park information without the need to be connected to wifi or cell service.
New Fishing Information is now featured at national parks and other sites with 7 specific digital resource categories and 6 new custom activity badges for different types of fishing.
Thousands of Updated Digital Resources and Experiences provided, including virtual tours, Junior Ranger badges, live webcams, educational videos, and new resource categories – hidden histories, recreate responsibly, and wildlife viewing.
Improved Search Functionality allows users to search for specific locations, various activities, and parks with historical and cultural significance.
Accessibility Information Now Available for all users to prepare and plan their park experiences.
Photo Sharing continues to allow users to upload and share their favorite park images.
In addition to the key features and enhancements above, the app also boasts improved map functionality, a refined onboarding experience, and access to information about free park passes offered by the National Park Service.
The app is currently available for download from the Apple App Store and Google Play.
ABOUT NATIONAL PARK TRUST
National Park Trust is a non-profit dedicated to preserving our national parks. The Park Trust accomplishes this goal through land acquisition to expand and "complete" our national parks and by creating a pipeline of future park stewards by connecting kids to parks. Established in 1983, the Park Trust has preserved nearly 30,000 acres in 31 states, one U.S. Territory, and Washington, D.C. In addition, since 2009, National Park Trust has engaged more than 3 million kids and families with the great outdoors through their national Buddy Bison School Programs and annual Kids to Parks Day. Find out more about the Park Trust's mission of preserving parks today and creating park stewards for tomorrow at parktrust.org.
MEDIA CONTACT:
Ivan Levin at 540.818.5818 or ivan@parktrust.org.