National Park Trust's 9th Annual Kids to Parks Day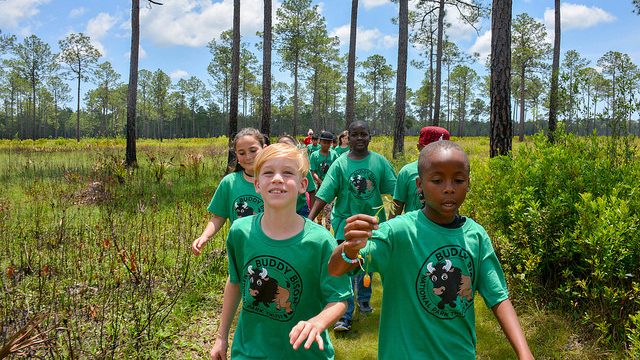 National Park Trust Partners With the National Park Service, Cities, Towns, And States Around The Country To Promote The National Day Of Outdoor Play And Park Appreciation; 1,400+ Park Events Planned; 1.1 Million + To Participate
WASHINGTON, May 9, 2019 — In celebration of Kids to Parks Day, held annually the third Saturday in May, millions of Americans will join National Park Trust and its many partners on May 18th to honor America's parks and public lands by attending over 1,400 free park events in all 50 states and Washington, DC.
The United States Senate passed a resolution of support declaring May 18, 2019 Kids to Parks Day.
"National Park Trust hopes families across America will commemorate Kids to Parks Day by planning a fun family outing, attending a park event, or joining a collective celebration in what has become a national day of outdoor play and park appreciation."

Grace Lee, Executive Director, National Park Trust
Mayors from more than 430 cities and towns –including Montgomery (AL), Tucson (AZ), Sacramento (CA), Denver (CO), Washington (DC), Honolulu (HI), Detroit (MI), Kansas City (MO), Las Vegas (NV), Newark (NJ), Albuquerque (NM), and Austin (TX) have signed resolutions of support.
Visit www.kidstoparks.org for a complete list of park events by state and downloadable tips and activity guides to help children, families, and teachers plan park adventures. Those who pledge to participate and share their adventures with the hashtag #KidstoParks on May 18th will also have a chance to win a camping package from The North Face as well as other outdoor gear gifts from partners including National Geographic Kids, Eastern National and Parks Project.
Kids to Parks Day is the signature event of the Park Trust's popular Buddy Bison® School Program which teaches environmental education. Through its woolly mascot Buddy Bison, the Park Trust encourages children to "Explore outdoors, the parks are yours!" 77 elementary and middle Title I schools, in 17 states and Washington, DC participate in the Buddy Bison School Program, which provides classroom resources and fully funded park trips that enhance and expand school curricula.
ABOUT NATIONAL PARK TRUST
National Park Trust is a non-profit dedicated to preserving parks today and creating park stewards for tomorrow. The Park Trust is the only land trust with a comprehensive mission of protecting national parks through land acquisition and creating a pipeline of future park stewards by getting kids to parks. Since 1983, the Park Trust has completed 70 land projects in 31 states, the US Virgin Islands, and Washington, DC. This school year, the Park Trust will provide an estimated 25,000 under-served kids with park trips through their nationally recognized Buddy Bison Programs and Kids to Parks Day National School Contest, both of which support Title I schools.
Find out more at www.parktrust.org.
###