Washington, D.C. Middle School Teacher Receives National Award for Outstanding Environmental Stewardship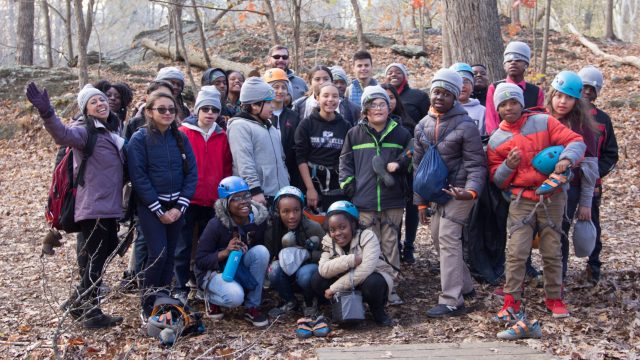 FOR IMMEDIATE RELEASE: July 9, 2020
Media Contact: Olwen Pongrace at 202.253.3190 or olwen@parktrust.org
WASHINGTON, D.C. MIDDLE SCHOOL TEACHER RECEIVES NATIONAL AWARD FOR OUTSTANDING ENVIRONMENTAL STEWARDSHIP
Washington, D.C. (July 9, 2020) – National Park Trust is pleased to announce that Heimy Salgado, a reading specialist at Ida B. Wells Middle School in Washington, D.C., is the recipient of National Park Trust's 2020 National Educator Award for Outstanding Environmental Stewardship. The annual award recognizes an educator who has made a significant impact on his or her students' understanding of the natural world and the importance of protecting our nation's treasured parks.
Thanks to support from the Wyss Foundation, the newly established Ida B. Wells Middle School was able to participate in the Park Trust's national Buddy Bison School Program during its inaugural school year. However, Heimy Salgado has served as a Buddy Bison School Program teacher at three different schools in the Washington, D.C. area since the inception of the program in 2009. Whenever she was recruited by another D.C. school, she asked if the Park Trust could add that school to the Buddy Bison School Program. Over the course of her 11-year involvement in the program, Salgado has developed and implemented in-depth advanced reading and science programs and has worked with National Park Trust to help shape and build a more robust and effective program. As a result, Salgado was also chosen as National Park Trust's first Youth Programs Fellow and served as an advisor to the Park Trust board during the 2017 to 2020 school years.
Over the years, she has introduced hundreds of students from Title I schools to numerous educational park experiences from rock climbing at Carderock Recreation Area (MD) to freshwater snorkeling in George Washington and Jefferson National Forest (WV) to canoeing on the Anacostia River (D.C.). During each adventure, Heimy involved her students and families with conservation, teamwork, and countless classroom lessons broadened by the parks and the outdoors.
"We are delighted to recognize Heimy Salgado with our 2020 National Educator Award for Outstanding Environmental Stewardship. For more than a decade, Heimy has been an extraordinary champion of outdoor education and an incredible steward of our parks. She serves as a wonderful role model for teachers, students, and families. We look forward to working with her and her students for many years to come."

Grace Lee, Executive Director, National Park Trust
"I feel so honored to receive this incredible recognition, especially when I think of all the great educators who have received this award before me. Thanks to the National Park Trust, my students have been able to participate in immensely important experiences. These experiences have stuck with them and have helped spark a love for National Parks. In the not too distant future, many of my students will draw inspiration from their experiences as a Buddy Bison student and will do great things to preserve parks and to help children across our nation have access to parks."

Heimy Salgado, Ida B. Wells Middle School, Washington, D.C.
ABOUT NATIONAL PARK TRUST
National Park Trust is a non-profit dedicated to preserving parks today and creating park stewards for tomorrow. The Park Trust is the only land trust with a comprehensive mission of preserving national parks through land protection and creating a pipeline of future park stewards by connecting kids to parks. Since 1983, National Park Trust has benefitted 48 national park sites across 28 states, one U.S. Territory, and Washington, D.C. Annually, the Park Trust provides an estimated 20,000 under-served kids with park trips through their nationally recognized Buddy Bison Programs and Kids to Parks Day National School Contest, both of which support Title I schools. Find out more at www.parktrust.org.
###