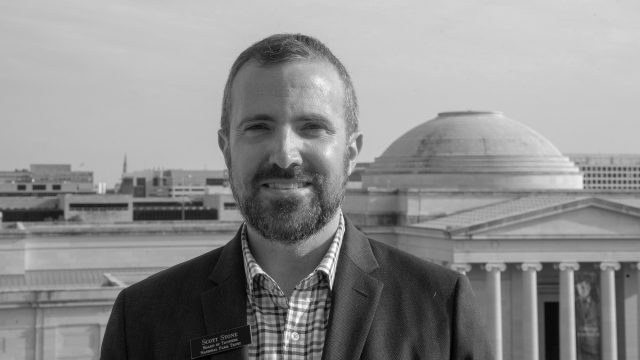 Lookfar Conservation and Glencoe Strategies LLC
Chicago, IL
Scott Stone grew up in the Midwest, spending weekends and summers hiking, cycling, paddling, and camping throughout Illinois, Wisconsin, Michigan, and Minnesota. As he grew older, Scott ventured west and trekked and climbed in the Big Horn, Wind River, Absaroka, and Teton ranges in Wyoming, the Cascades in the Pacific Northwest, and the Sierra Nevadas in California. Scott later taught ecology at an outdoor education program in Maine and led backcountry expeditions in Western Canada.
As a college student, Scott spent two summers working as a volunteer park ranger at Badlands National Park. "It all started when I decided to take a political science course at Northwestern University with the late Professor Paul Friesema, who'd been placing students at national parks," Scott said.
"One day Prof. Friesema ambled up to the lectern and said: 'Who'd like to work at Yellowstone? Who'd like to work at Yosemite? Who'd like to work at Glacier? Sign up after class.' So, I put my name down, and a few weeks later he called me up and said: 'You're going to work at the Badlands!' It sure wasn't what I was expecting, but I had an absolute blast out there in South Dakota and went back on my own for a second summer."
Scott is the founder of Lookfar Conservation, a nonprofit organization that helps small, local conservation groups in Latin America and Sub-Saharan Africa with ecological restoration projects and other conservation initiatives. Scott also is the founder of Glencoe Strategies LLC, a climate and conservation policy consulting firm that advises a diverse range of industry and nonprofit groups and advocates on their behalf before Congress and federal agencies.
Scott previously co-founded and was a partner at S2C Pacific, an energy and environmental consulting firm. He also practiced environmental, administrative, and international law with Hunton Andrews Kurth in Washington, DC, served as the Director of Global Environmental Initiatives for the Sierra Nevada Corporation, and worked as a policy analyst for the Institute for Governance & Sustainable Development (IGSD).
"It's been a tremendous honor and a great pleasure to serve on the board of the National Park Trust. The Park Trust works with such determination to uphold and, quite literally, expand the legacy of our country's national parks. And thanks to Buddy Bison, the Park Trust has brought the easy magic and wonder of our parks to kids who might not otherwise get the chance to experience them. It's hard not to get excited at the prospect of being a part of this terrific organization. It's also great to reconnect with the park service, after serving as a ranger at Badlands National Park for two summers when I was in college."