Protected Park
Cape Hatteras National Seashore, NC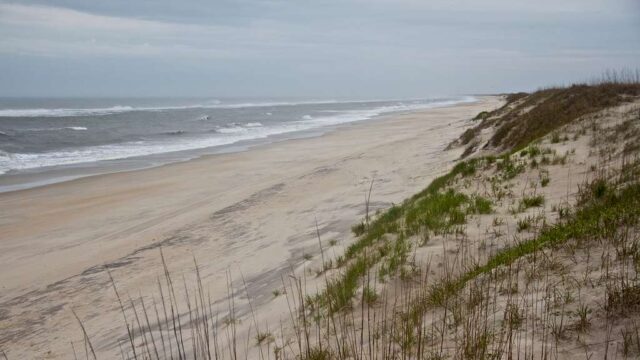 In 2023, the Park Trust partnered with the National Park Service to acquire two at-risk homes in Rodanthe, NC, located on the beach at the Cape Hatteras National Seashore boundary. The houses are dangerously exposed directly to wave action; significant erosion took away what was a 500-foot beach. The properties face imminent risks, especially during storms when ocean waters are higher. Several neighboring houses have already collapsed into the park, leading to debris and sewage contamination for miles along the beach and ocean.
As hurricane season approached, National Park Service (NPS) came to National Park Trust asking for assistance in funding and expediting two property appraisals required to complete this critical acquisition. Using its expertise and abilities as a nonprofit with broad national park real estate expertise, the Park Trust cut the appraisal process time by more than half, playing a pivotal role in the timely acquisition and, ultimately, the protection of the Rodanthe shoreline and park. The appraisal process was the critical first step needed before the National Park Service could acquire the properties.
On September 29, 2023, NPS closed on the purchase of the at-risk properties using resources from the Land and Water Conservation Fund, established by Congress in 1965, which uses earnings from offshore oil and gas leases — not taxpayer dollars — to protect lands, waters, and historic sites. NPS is moving forward with removing the houses to mitigate the inevitable environmental impact.
Cape Hatteras National Seashore draws more than 3 million visitors annually and boasts unique historic structures and maritime history. It's home to nesting sea turtles and sea and shorebirds. The collapse of the houses jeopardized visitor safety, public health, and threatened wildlife habitats. Through collaborative efforts, the National Park Trust and the National Park Service have helped ensure this natural treasure's preservation, securing its legacy for future generations.
Project Details:
Project Years: 2023
Parcel Size: .5 acres
Project Cost: $731,000
Value to the Park and Public:
Helped mitigate the ongoing challenges of having threatened oceanfront structures impact visitor safety, public health, and wildlife habitat at the Seashore.
This will result in beach restoration and make the site open to public beach access.
Longterm Significance:
The purchase and removal of the properties will prevent further pollution and scattered debris from being present along beaches and in the water.
Protects the safety of wildlife, the visiting public, and park employees.
Removes threat to nesting and feeding wildlife.
Map of Project Area
Photos of project area
Photos of Cape Hatteras National Seashore