Protected Park
Hovenweep National Monument, UT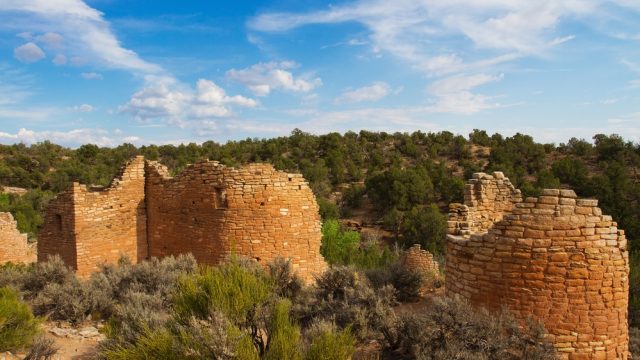 Throughout the 13th century, the Ancestral Puebloans, brick by brick, built the towers that accent the landscape of southeastern Utah. This sedentary farming culture occupied the Four Corners area for centuries and their towers are still standing at Hovenweep. It is speculated that the striking architecture served as observatories, defense structures, homes, or storage buildings.
Centuries after the towers were constructed, on March 1, 1923, Hovenweep was dedicated as a national monument by President Warren Harding. The monument preserves the rich history of the site and educates visitors about the people that once lived there. In 1998 the National Park Trust provided funds to help the Bureau of Land Management acquire 640 acres of private land near the park which protects the natural views and peacefulness of this iconic national monument.
Preservation of the natural landscape and habitat prevents light pollution and non-natural noise. It maintains a large natural panoramic view that goes beyond park boundaries. The exchange allowed the BLM to take three scattered tracts of land and exchange for one larger tract that was contiguous with BLM land.
Fun Fact: The name "Hovenweep" is a Paiute/Ute word meaning "Deserted Valley".
Project Details:
Project Years: 1998
Parcel Size: 640 acres
Project Cost: $25,000
Long Term Significance of the Acquisition:
Natural landscape as viewed from the park is preserved
Any cultural or archeological resources on the site are preserved
Maintaining natural scene preserves dark skies, natural sounds, preserves dry land habitat
Value to the Park and Public:
The public can put themselves in the place of the ancients who lived at Hovenweep. They can experience a natural environment with sounds, dark skies, and desert expanse very close to what is was 900 years ago
Preserving archeological sites on adjacent lands allows researchers to put together a more complete and bigger picture of ancient life in the area