Protected Park
Olympic National Park, WA (1990)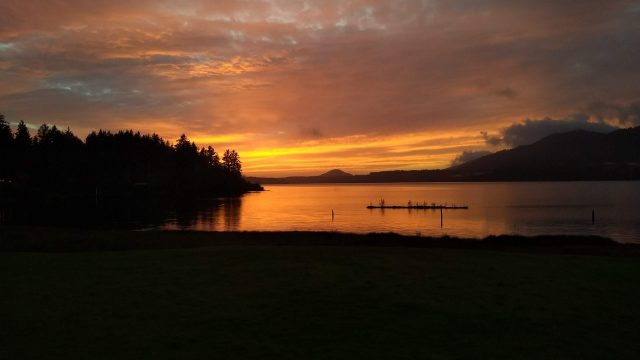 National Park Trust acquired 15 lots totaling 6.22 acres on the north shore of Lake Quinault in Olympic National Park and transferred it to the National Park Service.
The property purchased was in a subdivision inside Olympic National Park. It was part of a National Park Service effort to acquire lots in the subdivision and stop development of the area. The acreage the Park Trust bought was natural Pacific rainforest, with characteristic old growth native trees such as Sitka spruce, western red cedar and big leaf maple. The land was contiguous with undeveloped park land that had not been logged. Thus, it increased the natural undisturbed land surrounding the subdivision.
Olympic National Park, established in 1918, occupies over 922,000 acres on Washington State's Olympic Peninsula, 876,447 of which is federally designated wilderness. Streams and rivers radiate out from the mountains, feeding through subalpine forests and temperate rain forests on their way to the Pacific Ocean. The Quinault River widens into Lake Quinault, a glacial lake formed about 15,000 years ago, then re-forms as a river before it flows onto the ocean. The lake lies within the rainforest, dominated by some of the tallest trees of their species. Douglas fir and western hemlock may grow to over 200 feet. The largest Sitka spruce on Quinault Lake measures 191 feet high and the largest western red cedar in the area is 159 feet tall.
Though there are private land holdings along the shore of the lake, it is owned and managed by the Quinault Indian Nation. It is bounded on the west by the Quinault Indian Reservation, the south, and east by the Olympic National Forest, and the north by Olympic National Park. The lake and river system support populations of sockeye, chum, and Chinook salmon; and steelhead, bull, and Dolly Varden trout. Sockeye salmon are of particular cultural and economic benefit to the Quinault Indian Nation. The Quinault National Fish Hatchery, downstream of the lake, raises salmon and steelhead to populate the river.
Project Details:
Fiscal Year: 1990
Parcel Size: 6.22 acres
Project Value: $192,700
Long Term Significance of the Acquisition:
Permanently protects undeveloped land along the Lake Quinault shoreline that could have added as many as 15 houses
Preserves section of Pacific Rainforest with large uncut old-growth native trees, some as old as 600 years
Value to the Park and Public:
Maintains greenspace in a developed subdivision area
Adds to park lands, increasing amount of and access to the public