Protected Park
St. Croix National Scenic Riverway, WI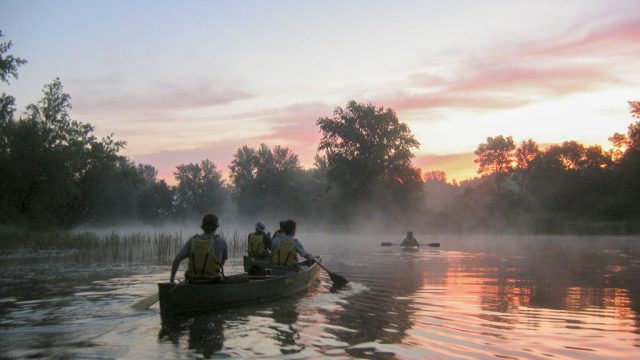 National Park Trust added 145 acres to the St. Croix National Scenic Riverway in April 2020. The complex project involved a land exchange in which the Park Trust worked with the Wisconsin Board of Commissioners of Public Lands to identify and purchase valuable timberland. The land was traded for three parcels of land owned by the State of Wisconsin in the north-central part of the state. The three parcels were transferred from the Park Trust to the National Park Service within days of taking ownership.
Now a part of the park, the land adds to the natural river corridor and strengthens the protection of its ecological and scenic values. The Riverway protects over 230 miles of clean, free-flowing water and serves as critical habitat for over 100 species of fish, more than 55 mammals including wolves, and over 40 species of mussels, 5 of them endangered. The St. Croix and Namekagon Rivers, in northwest Wisconsin and east-central Minnesota, flow through some of the most scenic and least developed country in the Upper Midwest. The north-south orientation of the St. Croix River makes it an important bird migratory pathway. And the rich fishery is ideal for the eagles, ospreys, and herons found there. Read the press release.
This free-flowing riverway, though logged many years ago, remains high-quality aquatic habitat; mussel species there are very much the same as 400 years ago. There are excellent opportunities for canoeing, kayaking and fishing on both rivers, along with power boating on parts of the St. Croix River that can accommodate it. Multi-day water trips are possible with the primitive campsites distributed along the rivers' edge. For those who wish to see the river from land, there are a few scenic viewpoints and road access to features such as the Dalles of the St. Croix.
Project Details:
Project Year: 2019
Parcel Size: Total of 145 acres
Project Value: $245,000
Long Term Significance of the Acquisition:
Each piece of property acquired promotes and protects the habitat, recreational opportunities and activities, and long-term conservation values for which St. Croix National Scenic Riverway was set aside.
At least 5,000 feet of riverfront would be retained in a protected state.
Public access and use on now what is state land would be permanently ensured through transfer to NPS.
Value to the Park and Public:
Inholdings preserved and protected in their natural, undeveloped state for public enjoyment
Acquisition of the properties promotes continuity of land management where there are "holes" in NPS property.
This project is dedicated to the life and work of former Vice President Walter Mondale (1928 – 2021), a park champion who did so much to protect the St Croix River for the Minnesota community.