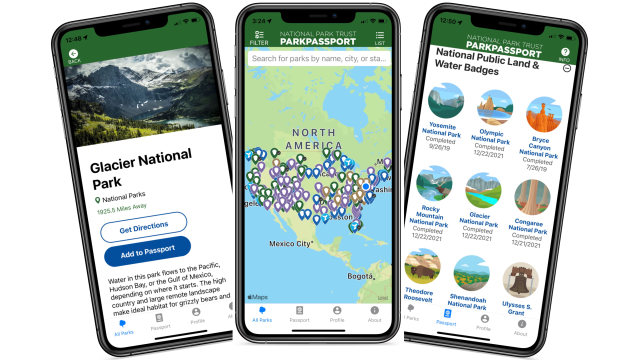 DISCOVER AND EXPERIENCE PARKS FROM AROUND THE COUNTRY
Download and use our ParkPassportSM App to discover new outdoor places to explore all year long.
National Park Trust has improved the user experience with the following enhancements and new features to ParkPassport 2.0:
Updated Park Finder helps users discover nearby parks anywhere in America now featuring over 600 new park locations to further explore. In addition to the 63 national parks, included in 2.0 are the U.S. Army Corps of Engineers' 463 lakes and rivers, the National Oceanic and Atmospheric Association's (NOAA) 15 National Marine Sanctuaries and two Marine National Monuments and Missouri's 93 state parks.
New Badges in the Digital Passport are available for different parks and outdoor activities, including custom badges for all national parks, National Marine Sanctuaries and Monuments, and Missouri State Parks.
Offline Functionality now allows users to track their park visits and activities and access park information without the need to be connected to wifi or cell service.
New Fishing Information is now featured at national parks and other sites with 7 specific digital resource categories and 6 new custom activity badges for different types of fishing.
Thousands of Updated Digital Resources and Experiences provided, including virtual tours, Junior Ranger badges, live webcams, educational videos, and new resource categories – hidden histories, recreate responsibly, and wildlife viewing.
Improved Search Functionality allows users to search for specific locations, various activities, and parks with historical and cultural significance.
Accessibility Information Now Available for all users to prepare and plan their park experiences.
Photo Sharing continues to allow users to upload and share their favorite park images.
In addition to the key features and enhancements above, the app also boasts improved map functionality, a refined onboarding experience, and access to information about free park passes offered by the National Park Service.
The app is currently available for download from the Apple App Store and Google Play.
WATCH OUR PARKPASSPORT 2.0 APP TUTORIAL!
Sign up to receive National Park Trust's monthly e-newsletter to learn more about our work to preserve and protect our national parks across the country.