Adventure at Pipestone National Monument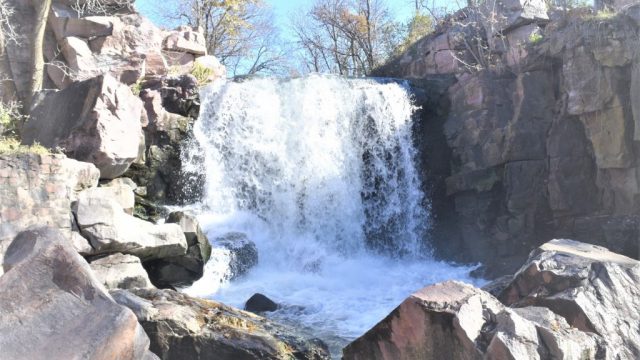 Buddy Bison and I recently traveled to Pipestone National Monument in southwestern Minnesota. The Monument consists of 301 acres of land that features quarry pits, tallgrass prairie, a trail, and a waterfall called Winnewissa Falls.
The Monument's Visitor Center is currently closed because of Covid-19, but Buddy Bison and I were able to tour the area by walking the 3/4-mile-long Circle Trail. The trail took us through a tallgrass prairie with more than 70 types of native grasses, a beautiful waterfall, and past rock quarries.
This land has been used by Native Americans for over 3,000 years to quarry stones made of catlinite. The red and pinkish stones are used by Native Americans to make sacred pipes. That is why the area is called Pipestone. During prayer time and religious ceremonies, the smoke from the pipe will carry prayers up to the Great Spirit.
Buddy Bison wants to make sure visitors know that stones may not be removed from the Monument without a permit. Native Americans who are enrolled members of tribes recognized by the federal government may apply for a permit to quarry at the Monument. There are currently 56 pits on the property where stones can be recovered. Each pit is assigned to an individual for one year at a time, and the individual can choose to renew the permit each year. The waiting list for new applicants to get a permit to quarry is about 10 years.
For those without a permit to quarry, pipes and crafts made from the quarried stone are available to purchase at the Monument's Gift Shop. Items are also available from their online store which can be found here: https://www.authenticpipestone.com/.
Throughout our journey, we saw many pieces of cloth tied to trees. These are called prayer ties. The ties are a prayer or a spiritual offering.
The Monument's calendar of events is currently empty due to Covid-19. However, there are usually lots of activities planned throughout the year such as snowshoeing, night sky viewings, a Christmas Bird Count, and an annual Sun Dance Ceremony for Native Americans to give thanks to the Great Spirit. Buddy and I look forward to returning to the Monument when these activities resume.