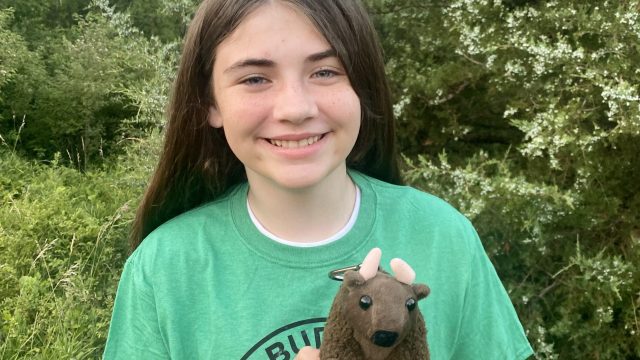 Bellevue, NE
This is Joslyn's third year as a National Park Trust Student Ambassador. Buddy Bison and Joslyn have been on many adventures together such as learning how to churn butter, saving seeds for a grassland prairie, and riding in a covered wagon. Joslyn's favorite places to visit are where history was made. Thanks to the National Parks Service, many of our nation's important historical sites are being preserved.
Keeping our parks and environment healthy and clean is a goal of Joslyn's. With the support of her teachers and principal, Joslyn started a Crayola Colorcycle recycling program at her elementary school, and she now has bins at additional schools and two libraries. She earned the 2018-2019 Presidential Youth Environmental Award from the Environment Protection Agency for her recycling efforts and is Nebraska's 2021 Prudential Spirit of Community Middle School Honoree. Joslyn is also an active member of Cass County 4-H.
When Joslyn isn't at a State or National Park, you can find her sporting events– as she has been a Kid Reporter for Sports Illustrated Kids since 2018.
Joslyn is available for speaking engagements about National Parks for schools and community groups that are located in Nebraska and Iowa. Stay tuned to her social media to keep updated on fun activities and events in our National, State, and local parks. You can follow Joslyn on her Park Trust blog below, on Twitter @JoslynJunior, and on Instagram @junior_ranger_joslyn.