Time Travel at Homestead National Monument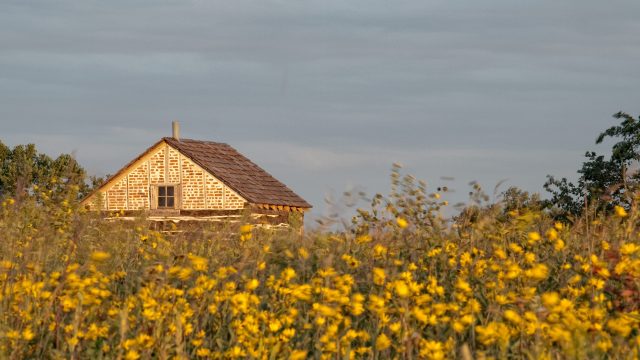 If you want to experience time travel, go to the Homestead National Monument of America in Beatrice, Nebraska!
The National Monument is located at 8523 West State Highway 4 Beatrice, NE 68310.
While there you can tour the land that was part of the first Homestead claim, see the oldest restored tallgrass prairie in the National Park Service, and tour the longest-running one-room schoolhouse in Nebraska!
Buddy and I visited for their Homesteading Days program. While I was there I made corn husk dolls, churned butter by hand, and learned how to wash clothes by hand.
Here are my favorite things to do at Homestead:
Learn About the Homestead Act of 1862- Settlers could get 160 acres of land for free! Each homesteader had to live on the land, build a home, make improvements, and farm for five years before they were could own the land. The Homestead Act gave 270 million acres of public lands to settlers
The Monument is where history was made– Come see the land where that Daniel Freeman homesteaded. Freeman was one of the first people to file a claim under the Homestead Act of 1862. Legend has it that Daniel Freeman filed his claim 10 minutes after midnight on January 1, 1863 – the first day of the Homestead Act.
Find Homesteaders in YOUR Family Tree– Wondering if your relatives were homesteaders? Come to Beatrice and search their homestead records for free. They have records about homesteaders in Alaska, Arizona, Indiana, Illinois, Iowa, Nebraska, Nevada, Oho, Wyoming, and Utah.
See the Last Homesteaders' Tractor – the Homestead Act ended in 1976, but allowed homesteading in Alaska until 1986. The last person to receive a Homestead Act patent was Ken Deardorff in May of 1988. The tractor he used on his Alaska homestead is now on display at the Homestead National Monument.
See the Longest Running One-room schoolhouse in Nebraska– there was a time when an entire school fit into one room! It's hard to imagine kids of all ages gathered in one room to learn from a single teacher. The Freeman School, officially known as School District Number 21, provided education for Nebraska children from 1872 until 1967. Stop by to tour the school, which has been restored to look like it did in the 1880s.
See the Tallgrass Prairie– According to the National Park Service, 96% of the tallgrass prairies that were in our country are gone. That's why Homestead preserves 100 acres of restored tallgrass prairie. This prairie restoration at Homestead National Monument began in 1939, making it the oldest in the National Park Service and the second-oldest in the country! Visit Homestead to hike on two miles of trails through the prairie!
Check the calendar for more events! Homestead has events throughout the year. I'm looking forward to giving a helping hand by helping collect seeds there on October 12th. Visit thttps://www.nps.gov/home/planyourvisit/calendar.htm or call (402) 223-3514 for more information.