Strike It Rich at Crater of Diamonds State Park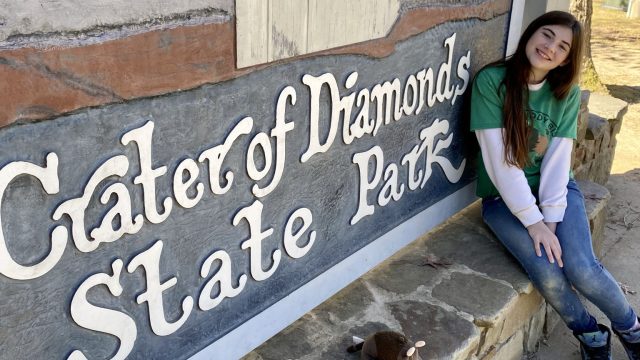 Did you know that you could strike it rich when you visit a state park?
This is a possibility for those who visit Crater of Diamonds State Park in Murfreesboro, Arkansas.
Park visitors get to search for real diamonds, cool rocks, and gemstones in a 37-acre field. And "finders – keepers" is the rule – you get to keep the rocks you find! Of course, if you are like me, your parents might make you share your findings with your younger sister.
I was very excited to visit the park last year because, according to the 2021/2022 Arkansas State Parks Guide, more than 34,200 diamonds have been found by visitors since it became a state park in 1972.
Don't worry if you don't know if you really found a diamond – the park offers free rock and mineral identification at the Diamond Discovery Center. Diamonds are weighed and certified for free! The diamonds found at the park can be white, yellow, or brown.
I visited the park last year with my family. While we didn't find any diamonds, I did take home some great memories and some good tips for visitors:
Tip #1 – Get your tickets beforehand so you make sure you can get in! You can get them online by going here: Crater of Diamonds State Park Tickets (ticketleap.com)
Tip #2 – Decide whether you are going to use your own mining equipment or rent tools from the park. A list of rental rates can be found here: Digging for Diamonds | Arkansas State Parks. We rented tools from the park, but because arrived later in the day, not all of the tools were available.
Tip #3 – Be there when the park opens. We got there a few hours into the day, and while there was still plenty of room to dig, it would have been cooler to get there when it first opened to pick a prime spot.
Tip #4 – If you can visit after a rain. We visited right after it had rained, and according to other park visitors, this was a good time to look for diamonds because the rain helps expose diamonds and gemstones.
Tip #5 – Wear clothes that you don't mind getting dirty. We were covered in mud and dirt from digging. Even Buddy Bison needed to be washed.
Tip #6 – Learn about diamond hunting before you go. There is more than one way to search for diamonds in the park. Learn about the different methods to search for diamonds here: How Do I Search for Diamonds | Arkansas State Parks. We tried the digging and sifting methods.
Tip #7 – Look carefully through your rocks! Each person can take up to five gallons of sifted gravel home. Some people get home and carefully look through the gravel and find a diamond surprise!
Tip #8 – Be on the lookout for more than diamonds! Stones such as amethyst, agate, jasper, quartz, and more have been found at the park!
Tip # 9 – Take Buddy Bison with you! Who knows – he might bring you luck!