Exploring Tallgrass Prairie National Preserve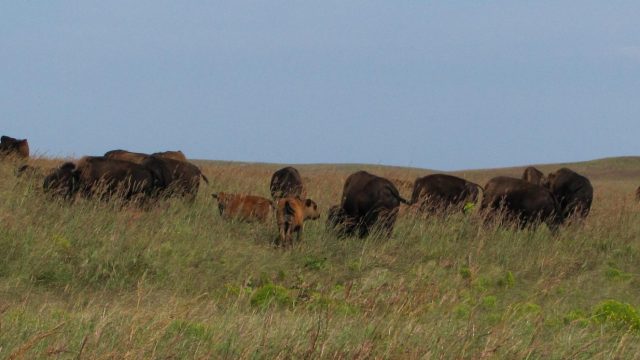 Buddy Bison wanted to see his herd, so we took a trip to Tallgrass Prairie National Preserve near Strong City, Kansas!
My family and I visited the park during their Harvest Festival. During the event, I learned how to make apple cider like the pioneers did, how to rope a wooden cow like a cowgirl, and I rode on a covered wagon.
During our visit, we went on a bus tour of the tallgrass prairie too. Here are a few interesting facts that I learned during my bus tour with Lead Park Ranger Eric Patterson:
Most of the prairie isn't publicly owned. Only 33 acres of the 11,000 acres is owned by the National Parks. The other acres belong to a nonprofit group called the Nature Conservatory. But, the public is welcome to explore all of it!
There are more than 70 species of grass at the prairie. The grass is dormant in the winter. It wakes up in mid-May and starts growing. Fall is when the grass is at its peak.
There isn't much tallgrass left. Less than 4% of the tallgrass that was once in the United States still exists. If you want to see what's left, you need to visit Kansas. There is more in-tact tallgrass prairie in Kansas than any other place in the United States!
Take a hike or the bus tour to see some bison. There are currently 87 adult bison and 13 newborn bison at the prairie. During our tour, Buddy Bison was excited to see a bison up-close through the bus window!
Want to study nature? Tour the preserve! There is a lot of life on the prairie. It is home to more than 450 species of flowers, 1,000 species of insects, and 39 species of reptiles and amphibians. There are also educational displays throughout the onsite Visitor's Center.
There is more than grass at the preserve. A ranch was built on the land in the 1880s. The public can tour the original 130-year-old barn, house, and nearby one-room schoolhouse.
Check their online event calendar. We visited during a special event. Luckily, there are lots of events throughout the year at Tallgrass Prairie. I would like to visit during one of their popular bison round-ups! The next big event is the Candlelight Tour on November 9th. Walking tours will take visitors around the ranch on paths that will be lit up by lanterns. Characters will be wearing historical costumes and talking about what their life on the ranch was like 130 years ago. This event is free, but reservations are required. To RSVP call 620-273-8494.
If you want more information about the preserve go to: https://www.nps.gov/tapr/index.htm