Buddy Bison Program Takes Kids on a Winter Adventure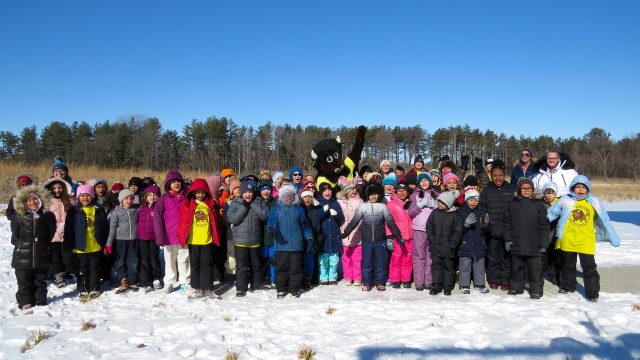 Buddy Bison School trips are a rare occurrence during the winter season, but on a blustery January day in Granger, Iowa, 75 third graders made the snow their own personal playground.
Thanks to a new partnership between National Park Trust and Symetra Financial, these students from Clive Learning Academy embarked on an exciting journey filled with adventure, discovery, and snow-filled fun! For these students, it was their second Park Trust experience of the year, with the first being a virtual ranger program where they explored Shenandoah National Park from the comfort of their classroom. However, this fully-funded winter trip was a hands-on experience they will never forget.
The Jester Park Nature Center staff went above and beyond to keep the students engaged and entertained, with support from Symetra volunteers. The students learned about the park's three ecosystems: grasslands, wetlands, and woodlands. Then they each participated in an owl-pellet dissection and got their adrenaline pumping by braving the indoor climbing walls.
After morning activities, it was time for the highlight of the day: a snowy hike where students got to explore the great outdoors in a true winter wonderland. Thanks to Symetra, the students were well-equipped with snow pants and ready for an unforgettable experience, despite the cold weather. The students dove right into the snow, making snow angels, and creating memories with their classmates.
In addition to working with Clive Learning Academy, our national partnership with Symetra is bringing the Buddy Bison School Program to Title I schools in Seattle, WA and Enfield, CT. Together we will teach students how to use parks as outdoor classrooms, promote their health and wellness through outdoor recreation, and inspire them to be the future caretakers of our nation's parks.