Exploring Sleeping Bear Dunes National Lakeshore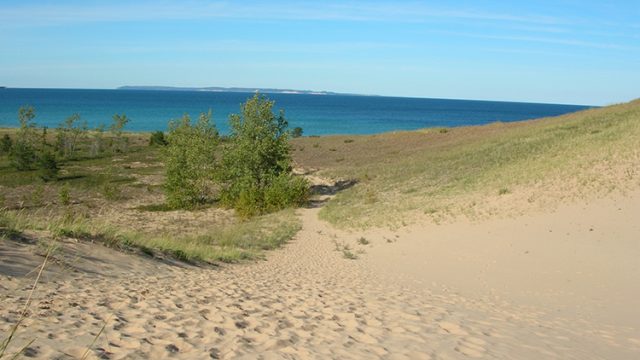 The Legend
A mother bear and her two cubs, were out in the night looking for food in Wisconsin. There was a big forest fire, and the only way to get out of it was to swim across the great Lake Michigan. The cubs and the momma bear started swimming, and the next morning the momma bear made it to the other side of the lake. She rested on a high bluff looking for her cubs. Unfortunately, the cubs both drowned, but the momma bear continued to wait, hoping her cubs would show up They never did, but instead, two islands were formed where the cubs were laid to rest. The momma bear refused to move and became buried in sand, where she still rests today waiting for her cubs.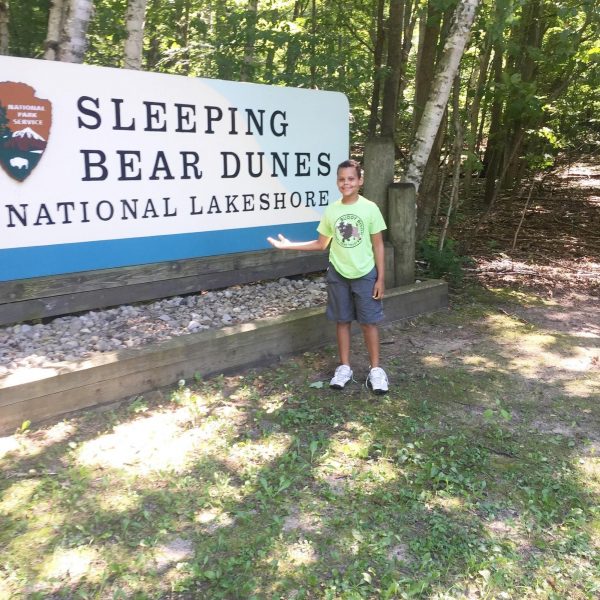 My Visits to the Dunes
The first time I went to sleeping bear dunes I was only 4 years old. I remember being so little and running up a huge sand dune – It was enormous!! I was able to visit again recently, and even though I'm bigger, the sand dune still looked gigantic! My little brother got to come with us this time, and we both ran up and down the sand dune. I could barely keep up with my brother, but we had a ton of fun!
When you get to the top, it is super cool to see the lake. Even though you have to climb a long way, it's totally worth it. If you do get to the very top, my favorite thing to do there is to run down the hill because you get so much speed! It's also fun to have a picnic by the lake, bird watch, or simply take in the beautiful sights. I really got to experience all of the National Lakeshore this time and I'm glad I got to go.
Why the Dunes are Fun
I think this trip was super fun because there are a lot of different things that you can do here. For instance, there is boating, picnicking, camping, hiking, biking, and a bunch more! My favorite thing about this trip is that you can run up and down the sand dunes. My brother and I raced up and down the dunes over and over again. We also covered each other in the sand and even tried to build sandcastles. It was an excellent experience all around.
That's my trip to Sleeping Bear Dunes – I hope everyone can go there one day!